Tottenham, Jamaica Match Ends In Goalless Draw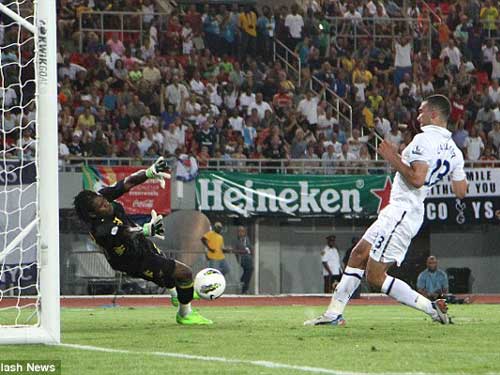 English Premier League powerhouse Tottenham Hotspur were held to a goalless draw by the Jamaican national team in an entertaining postseason friendly.
A very lively crowd inside the Thomas A. Robinson National Stadium did see the ball hit the net, when Spurs appeared to have scored in the second half, but the flag was raised for offside.
At the other end, Jamaica twice brought the best out of Spurs' keeper Lloris.
The crowd were brought to their feet when English football's Player of the Year Gareth Bale came on as a sub in the second half and wasted no time showing his skills.
Bigger concerns remain for Andre Villas-Boas, who saw Kyle Walker limp off 39 minutes into the contest through injury following a strong challenge from Evan Taylor, and will now wait on the full extent of the damage suffered by the England fullback.
Jamaica were on top before Bale replaced Mousa Dembele, and the 23-year-old quickly made an impact down the right through a couple of trademark sprints that led to Theodore Whitmore's side having to opt to a more defensive shape to stop the Welshman.
Before Bale's introduction, which produced the biggest cheer of the night from the sparse but noisy crowd, the game had already produced a number of opportunities for both teams with a mixture of poor finishing and smart saves from the goalkeepers keeping the score deadlocked.
Jermain Defoe fired off target in the early stages of the game following a long ball from Michael Dawson, while his replacement, Emmanuel Adebayor latched on to a Tom Huddlestone through pass only to be denied by Blake in a one-on-one during the second half.
The Reggae Boyz came even closer during the first period to scoring with Keammar Daley cutting in from the left before firing against the outside of Brad Friedel's post, while earlier in the half the American reacted well to save from Jermaine Hue.

football, Thomas A. Robinson Stadium