Up Close & Personal with Chris 'Fireman' Brown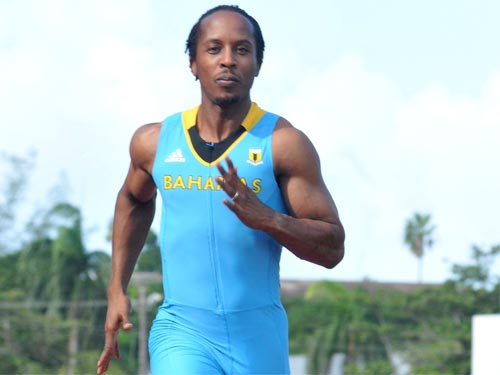 Olympic gold medallist Chris 'Fireman' Brown may have one of the fastest gaits in the world but it took him a long time to get where he wanted to go.
"It's been a long, long journey, 17 years," said Brown, "exactly half my life."
Half his life devoted to the goal that millions around the world saw him achieve.  On the tallest rise of the podium at the 2012 Summer Olympics in London, flanked by teammates Ramon Miller, Michael Mathieu and Demetrius Pinder, the four men who just proved they were the fastest feet in the fleet, the team who won Gold in the Men's 4x400m relay by a third of a second, wowed commentators, broke a nearly 60-year American winning streak, Brown soaked in the moment of a lifetime. Wearing the national colours of blue, black and gold, listening to the moving words and music of the Bahamian National Anthem, Chris 'Fireman' Brown was at the top of his life. He fought back tears, emotion so raw it was open for the world to see.
But he barely took time to gloat.
The race had just begun.
'Fireman' was planning ahead. Inspired, he wanted to host the first invitational track event on the country's new track, part of the new $30 million Thomas A Robinson National Stadium in The Bahamas. Some scoffed, calling it too ambitious. Brown was determined. Holding the meet would cost more than $500,000. He didn't have that kind of money. Here was a runner with not just Olympic gold but a string of medals, including world championship, struggling to keep up with the cost of vitamins and training and plans that cost more money than he had ever seen.
The Chris Brown Bahamas Invitational was only the beginning. The following year, 2014, The Bahamas would host the first IAAF track event of its kind in the history of the sport — a relay meet. Brown knew the world's best relay teams would be competing in sprints, mid and long-distance runs, no shot-put or javelin or high jump or single man races, no other events detracting from the one track event that requires speed, stamina, agility, timing and that extra something — a spirit of connection allowing one runner to hand off the baton to the next so seamlessly that it is if they were one..
In between there would be a season of training and meets that would start in the U.S. and end in August in Moscow, Russia, each important for overall rankings and contracts, critical for contracts and sponsorships for Brown and the Golden Knights who are awaiting the deed to the piece of land they are to receive, four heroes scraping to make ends meet. And farther out, but never far from Fireman's mind, the 2016 Summer Olympics. He will be 36 in the 2016 Games.
Brown had a lot on his mind, more on his plate, not to mention his personal priorities — a wife, two small children.
It is a few minutes past 7 on a Thursday morning at the British Colonial Hilton in Nassau and the man who had just been voted the most consistent runner in the history of the sport was running late for a speaking engagement. At the podium, Rotarians from the Sunrise Club of Nassau were extending announcements, prolonging jokes. Members who knew Chris 'Fireman' Brown was supposed to be there by now were checking watches, e-mail on smart phones, fidgeting.
And in he came. Apologizing but looking so surprised that all these business people were there to see him.
The apology was accepted instantly. It was April 11, 2013, two days before the Chris Brown Bahamas Invitational that yes, he had managed to raise money for, and was now less than 48 hours away. One hundred five athletes from around the world were descending on Nassau along with coaches, trainers, families, supporters, medical team. He was really managing to pull it off. But he had no idea that being host meant he would be up most of the night before and early that morning taking care of personal requests — change my room, I thought it had a view of the sea — dozens of requests and questions to be answered. From the audience came loud and unsolicited offers to volunteer, all from women, smiling. Brown thanked them and gave a huge thanks to the support team of volunteers from the Ministry of Youth, Sports & Culture which, along with the Ministry of Tourism, had helped fund and make the invitational meet possible.
And then he got down to business, letting people who had watched the Golden Knights win for The Bahamas in one of the country's proudest hours, get to know Chris Brown, just another guy from the island of Eleuthera with no airs, and yes, he would be honoured to be in Rotary, "Would you really want me to join when I come back to Nassau or Eleuthera?" he asked, incredulous that a room filled with such successful people would invite him. "Well, we've got Eldece," shouted another member, referring to 1999 Golden Girls Olympic medallist Eldece Clarke, also a member of Sunrise Rotary.
All the while, Brown seemed awed by the crowd.
"He's so humble," whispered one woman to this writer. Later, she would say it aloud,
"You're amazing. What a pleasure it is to see such a successful athlete who is humble, a husband, father whose family is such a priority."
"Yes, it's too bad about the married part," joked another woman. Or maybe not joking.
Brown had, in his quiet and unassuming way, won the crowd as firmly as he had the medal. He talked about "being in the zone" when focus is so intense that a runner does not hear noise around him or voices speaking to him. He talked about his two daughters, ages one and three, and his eyes lit up.
He talked of how proud he was to be Bahamian. He did not tell them what a few people know — that other countries offered him huge sums of money to run for their flag, to train their best runners.  He never considered it.
In his quiet voice, and in few words, he spoke eloquently, if never realizing that he did.
"I've had a very long journey," he said. "Seventeen years, exactly half my life. It's not easy but I believe what they say when they say the Lord does not give you more than you can bear."
He talked briefly about the hours of training, the early mornings alone on a track, the sacrifices of being away from family, intention to compete in the Rio Olympics. "I'm not just a track and field man," he said. "I'm a married man and a father." More sighs from the audience. The sighs sounded female. Again, he seemed amazed.
"I don't know what we were expecting," said a Rotarian in the moments allotted for questions following a presentation. "But you're amazing, so humble and that's terrific and heart-warming to see."
If there were any more questions, they were drowned out by the applause.
By Diane Phillips and Associates
Caption: Long road to fast track — It took Olympic Gold Medallist Chris 'Fireman' Brown 17 long years and a world of sacrifices and dedication to get to the finish line. Now the man just named the world's most consistent runner told the Sunrise Rotary Club of Nassau he has no intention of slowing down. (Photo Donald Knowles, Courtesy of Bank of The Bahamas.)

athletes, celebrities, sports