Allen Cay Rescued From Pesky Mice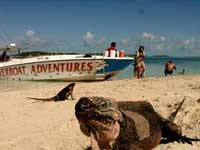 Allen Cay has been declared free of damaging and invasive house mice thanks to a partnership dedicated to restoring the cay's natural environment, seabirds, and endangered iguanas.
"This announcement is a major milestone for the recovery of Allen Cay and for our partnership. We plan to replicate this success on other islands being damaged by invasive alien species," said Eric Carey, executive director of the Bahamas National Trust (BNT).
The partnership includes the BNT, Island Conservation, Dr John Iverson of Earlham College and Dr Will Mackin. Funding support was provided by the National Fish and Wildlife Foundation's Recovered Oil Fund for Wildlife and Charter boat operator Powerboat Adventures. The John G Shedd Aquarium also made significant contributions to the project.
Allen Cay supports the third largest breeding population of Audubon's Shearwaters (Puffinus lherminieri lherminieri) in the Bahamas, as well as the Bahamas-endemic Allen Cay Rock Iguana (Cyclura cychlura inornata) listed as endangered by the International Union for Conservation of Nature (IUCN).
The inadvertent introduction of non-native house mice, a primary food source for barn owls, led to an artificially higher number of the transient barn owls which then ate large numbers of Audubon's Shearwaters.
As a result, the mortality rate for Audubon's Shearwaters was twice as high on Allen Cay compared to nearby cays without invasive rodents.
The decline of Audubon's Shearwaters and the lack of breeding iguanas were strong indicators that the Cay's threatened natural ecosystem required action.
In 2009, the BNT, Island Conservation, Dr John Iverson and Dr Will Mackin forged a partnership to develop and implement plans to remove house mice from Allen Cay.
To ensure and document success, the partners conducted extensive planning, field-trials, on-site monitoring, and public outreach.
After careful review, the Bahamas Ministry of Environment authorised the project in April 2012. The partners then took action and implemented the removal project in May 2012.
Last week, the partnership visited the cay, confirmed the absence of mice, and supported Earlham College scientists as they reintroduced resident iguanas that had been translocated to a nearby cay to avoid disturbance during the restoration project.
The confirmation team saw early signs of a recovering island ecosystem, and preliminary findings suggest a significant drop in the Audubon's Shearwater mortality since mice have been removed.
The mouse removal effort is a significant part of a larger effort to restore the natural environment of Allen Cay. Subsequent work to enhance breeding habitat will be done to increase the chance of recruitment and recovery of the iguana population.
Following the removal of invasive mice, natural cavities were filled with sand to provide ideal nesting sites for female Allen Cay Rock Iguanas.
Such efforts will continue into the future.
Source: The Tribune

Allen's Cay, mice, rodents