Heat Survive OT, Force Game 7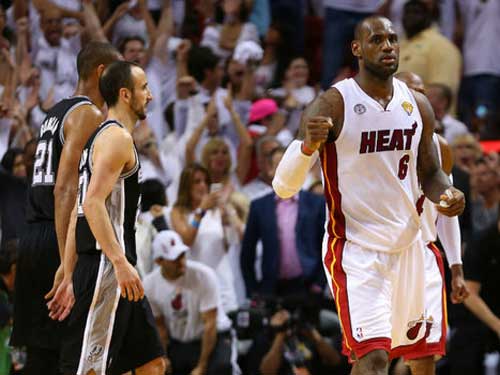 The Miami Heat tied up the series in Game 6 of the NBA Finals to force a Game 7. The Heat beat the San Antonio Spurs 103-100 in overtime.
LeBron James shrugged off a poor start to get 32 points, 11 assists and 10 rebounds, Ray Allen hit a 3-pointer with 5.2 seconds to play to force overtime and the Miami Heat staved off elimination with a 103-100 victory over the San Antonio Spurs in Game 6 of the NBA Finals on Tuesday night.
James missed nine of his first 12 shots, but scored 16 points in the fourth to rally the Heat from a 10-point deficit. The Heat trailed 94-89 with 28 seconds to play, but James hit a 3 with 20 seconds to go and Allen drilled another to tie it.
James' layup with 1:43 to play in overtime gave the Heat a 101-100 lead, and Allen added two free throws to force Game 7.
Game 7 will be on Thursday in Miami. Watch the game starting at 6 p.m. PT on ABC7.
By the Associated Press

Game Seven, NBA, NBA Finals, sports