Taiko Drum Concert Honours Bahamas 40th Anniversary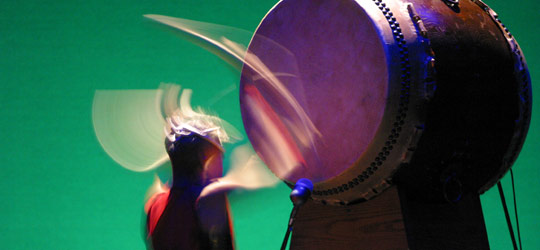 The Embassy of Japan and the Japan Foundation in association with The Nassau Music Society, will host a free concert entitled "Rhythms of Japanese Taiko Drumming" at the College of The Bahamas Performing Arts Centre on Friday, June 21st at 8:00 p.m. Two world renowned Japanese Taiko artists, Kenny Endo and Eri Ishizuka will deliver their performances for the first time in the Bahamas.
The Bahamas will be celebrating its 40th anniversary this July, and as such we believe that the concert would be a good opportunity to showcase Japan's commitment in strengthening Japan-Bahamas cultural nexus. It would also serve as a precursor of the launch of next year's Japan-CARICOM Friendship Year. The Embassy has invited Colours Entertainment and Junkanoo Organisation to make an appearance in the concert.
Event: Rhythms of Japanese Taiko Drumming
Date: Friday, June 21, 2013
Time: 7:30 for 8:00pm
Venue: The College of The Bahamas Performing Arts Centre
Admission: Free – Free invitations available at Custom Computers Cable Beach and Logos Bookstore Harbour Bay, or at the door on a first come first served basis.
Information: Embassy of Japan: Kaori Saito, Tel: +1 876 929 3338, email: kaori.saito<at>mofa.go.jp  Nassau Music Society: Italia Watkins-Jan, email: admin<at>nassaumusicsociety.org
Artist Profile – Kenny Endo
One of the leading personas in contemporary percussion and rhythm, KENNY ENDO is at the vanguard of the taiko genre, continuing to carve new territory in this Japanese style of drumming.
A performer, composer, and teacher of taiko, he has received numerous awards and accolades, including very special recognition in Japan—he was the first foreigner to be honored with a "natori," a stage name, in Japanese classical drumming.
Kenny Endo was a featured artist on the PBS special "Spirit of Taiko" in 2005.
He has performed for such musicians as the late Michael Jackson and Prince, opened for The Who, performed a duet with singer Bobby McFerrin, and is featured on the soundtracks for Kayo Hatta's film "Picture Bride", Francis Ford Coppola's "Apocalypse Now", and recently worked on James Cameron's "Avatar".
He had a day named for him by the Mayor of Honolulu- "Kenny Endo Day", and was honored by the National Endowment for the Arts for American Masterpieces.
Kenny has released 8 CDs of original music.  Kenny Endo is a consummate artist, blending Japanese taiko with rhythms influenced by his jazz background and by collaborations with musicians from around the world.  website:  http://www.kennyendo.com


Artist Profile – Eri Ishizuka
ERI ISHIZUKA has been playing taiko since the age of 10 and also performs hogaku hayashi (Japanese classical drumming as found in Kabuki theater and Nagauta music).
She first joined a taiko group called 'Hatoyama Koin no Kai' and learned hogaku hayashi from her father, Saburo Mochizuki and headmaster, Bokusei Mochizuki.
Eri was a student of 'O Edo Sukeroku Taiko' from 2005-2009.  She learned Edo Bayashi, Lion dance, and bamboo flute from Kyosuke Suzuki (of the Wakayama school) since 2008.
In 2010, she was a founder of the Tokyo based taiko group, 'Kuroccho'.
In Hawaii, she has been a performing member of the Kenny Endo Taiko Ensemble and teacher at the Taiko Center of the Pacific since 2010.
In addition to performing all over Japan, she has been on tours in: USA, Spain, Korea, China, and Austria.
Eri has been inspired many taiko players and audience members for her beautiful movements, strong sense of beat, Tokyo style, and musical sensibility.

On Saturday June 22, 2013, the Embassy of Japan and the Japan Foundation, again in association with the Nassau Music Society and with the assistance of the Alliance Française des Bahamas will offer a free Taiko drumming workshop/masterclass for drummers.
Persons wishing to participate and perform should immediately contact italia<at>afbahamas.org or admin<at>nassaumusicsociety.org as places are limited.
Persons wishing to simply attend and observe should also contact Italia Watkins-Jan at by sending  an e-mail to the above addresses.
Event: Taiko Drumming Free Workshop/Masterclass
Date: Saturday, June 22, 2013
Time: 10:00 to 12:00 noon
Venue: Alliance Francaise, Ocean Place, Cable Beach
Admission: Free
Information:
Kaori Saito, Tel: +1 876 929 3338, email: kaori.saito<at>mofa.go.jp
Alliance Française des Bahamas: Italia Watkins-Jan, email: italia<at>afbahamas.org

arts, culture, Japan, music