Mastercard Program Priceless To Bahamas Merchants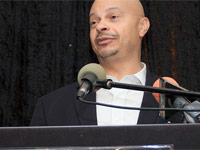 MasterCard's destination program was initially launched as the Fine Your Way program in 2008. It evolved into Priceless Bahamas in 2012. The program has 56 merchants in more than 70 locations in Nassau and Paradise Island to deliver special incentives to customers using MasterCard.
"One of the things that is really important to us is the fact that the MasterCard Priceless promotion is now being promoted in the source markets. Before it was just being promoted on-island," said Ellison "Tommy" Thompson, deputy director general in the Ministry of Tourism. "Now, it is getting to the consumer in their home market before they actually get to The Bahamas. That way they can now do some research and see who are the merchants who have the program and where they can do so shopping."
Mr. Thompson said it is encouraging that revenue from the program was up about 62 percent from 2010 to 2012. He said merchants are adding good value to their goods and services, making travelers want to shop with them.
Mr. Thompson also pointed out that MasterCard is partnering with Bahamian entrepreneurs who normally only carry out cash transactions. MasterCard is exploring ways to work with taxi drivers and straw business people, which would allow them to broaden the way they do business.
"You have Nassau now but we have got 16 islands where we have a touristic product on and we would like to see you expanding to," he said.
Rafael Puebla, head of Marketing for MasterCard, said more merchants participate in the program each year and invest more in the program. He said a good indication of the success of the program is that many of the merchants who were part of the program from 2008 are still involved in it.
This year, Priceless Bahamas adds two major hotel and to airlines. MasterCard cardholders will be able to enjoy daily $10 resort credit for stay of three nights or longer at Sheraton Nassau Beach Resort as well as a 50 percent discount to guests purchasing a day pass with their MasterCard at Compass Point Beach Resort.
Bahamasair and SkyBahamas are among the new merchants, offering 500 frequent flyer points at enrollment and a free gift with purchase, respectively. A total of 24 new merchants were added to the program this year.
Tourism Today

business, shopping