New Nassau Florist/JW Events Hosts Grand Re-Opening Celebration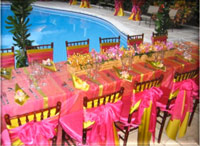 The press and public are invited to attend the Grand Re-Opening reception for Jim Whitehead's The Nassau Florist and JW Events. The event will be held at Villa Flora (formerly Gaylord's Indian Restaurant) on Dowdeswell Street (across from the hospital) on Thursday, June 13, 2013. A private reception will be held from 5:30 p.m. to 6:30 p.m. which will include a ribbon-cutting ceremony at 6:00 p.m.
The general public and loyal customers will be invited to attend the reception beginning at 6:30 p.m. Many local dignitaries including the Rt. Honourable Obie Wilchcombe and Mrs. Bernadette Christie as well as business leaders from the community will be in attendance.
Those who attend will participate in a mix and mingle, which will be interspersed by a short speech session and personal tours of the new retail facility. Information will be available regarding JW Events and various products and services that the company offers.
Beautiful live music will be played by the string trio Helen Peloquin and Company. Non-alcoholic beverages generously provided by the Caribbean Bottling Company will be served along with wine and John Watling's signature drinks. Hors d' oeuvres by Chef Ellie will also be offered alongside delicious chocolates from Graycliff's Chocolate Factory.
Background
The Nassau Florist is the oldest and perhaps the most well respected florist and events management company in the Bahamas. Established in 1951, Jim Whitehead assumed proprietorship nearly 20 years ago and with his many creative talents and skills developed the company into the flourishing artistic business that it has become today. The reputation for original, creative designs and dependable service that Mr. Whitehead has created over the decades is without parallel.
As co-founder of the Beaux Arts Ball; co-founder and partner of Marlborough Antiques; Booth Designer and Supplier with the Women's International Expo; Chief Florist of the Ms. Universe 2009 contest; Seven time winner of The Guardian Newspaper Christmas Display Award; Set Designer/Director for the Bahamas National Theatre (The Dundas), and annual Humane Society Ball and Red Cross Ball Consultant and Designer, Jim is renowned for his creativity and amazing designs. He has also been the trusted flower and design vendor of most of the major hotels in the Bahamas including Sheraton, Hilton, Sandals, Riu, Club Med, Atlantis Marina and many
others. His seasoned staff, of up to fourteen, executes all designs with clever expertise and is highly trained with keen customer service skills.
For more information, please contact Mr. Whitehead or Mr. Al Collie, Jr., General Manager, at The Nassau Florist 242.393.2223

beauty, business, events, style