Poop Deck Eagles Golf Club Give To Rotary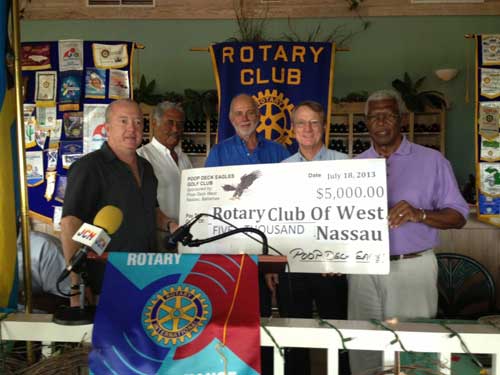 On Thursday, July 18, 2013, the Poop Deck Eagles Golf Club donated $5,000.00 to the Rotary Club of West Nassau.  The donation was made by Freddie Lightbourn, a member of the Club and owner of the Poop Deck Restaurant at Sandyport.  Present at the donation was Past Assistant District Governor Brendon Watson, Rotary Club of West Nassau President Carleton Blair, Past District Governor Barry Rassin, Past District Governor John Robertson and members from the Rotary Club of West Nassau.
The Poop Deck Eagles Golf Club was started in 2004 as a small group of guys with a vision to not only enjoy the game of golf, but to do a little something to make a difference in our community.
Their first Charity Tournament was played in 2006 with great success.  With lots of help from their corporate friends, and the inclusion of female members, The Poop Deck Eagles have become one of the more diverse and benevolent golf groups in the Bahamas.  With the proceeds of last year's tournament, they are pleased to note that they will have assisted local charities and youth organizations with over $245,000.00.
The Eagles have been very fortunate to have some very generous corporate friends over the years who have made this all possible.
Special Thanks to the sponsors of the 2012 Charity Golf Tournament
Title Sponsors:
Commonwealth Bank Ltd. & Wendy's Restaurants Ltd.
Platinum Sponsors:
Avis Car Rental, Baha Mar, Bahamas Air, Bahamas Airport Advertising, Bahamas Food Services, Bahamas Tourism Channel, Bahamas Wholesale Agencies, Custom Fenestration, Heineken, KFC- Restaurants Bahamas, KPMG, Orion Exports, The d'Albenas Agencies, The Mosko Group, The Poop Deck @ Sandyport, and the Movi Group.
Gold Sponsors:
Doctors Hospital Ltd., Downsview of Dania, Electro Telecom, Executive Motors – Toyota, Insurance Management Ltd. and Real Stone & Granite Ltd., and Roger & Sky Chow How.
Silver Sponsors:
Bahamas Local, Bahamas Supply Air Conditioning, Coco Cola, Cycles Unlimited, Easy Car Sales, Glinton-Sweeting-O'Brien, Island FM, John Bull, J.P. Daliwhal, Liquid Courage, New Providence Development, Paint Suppliers, Premix Bahamas, RSP Development, Union Bancaire Privee and Winterbotham Trust.
Bronze Sponsors:
American Export Co., Bell Industries, Cliff Petford & Joanne Dods, Dr. John Louis & Family,
Island Wear, Island Wholesale, Olives Meze Grill, Lightbourn Trading, Marcello Zenelli,
Nautilus Water, Sherwin Williams Paint, The Paint Place, Thompson Trading and
Western Hardware.
2013 Executive Members
Chairman & Tour Director – Ian Howard, Captain Scott Mackenzie, Vice Captain Cliff Petford
Treasurer – Bob Davidowski, Secretary-John Way, Tournament Director-Larry Black
Handicap Director-Krystal Mackenzie, Charity Tournament Director-Toni Aranha
Sponsor/Host-Frederick Lightbourn – Poop Deck @ Sandyport

cha-ching, money, poop, Poop Deck, rotary club