Shantytown Landowners 'Could Face Penalties'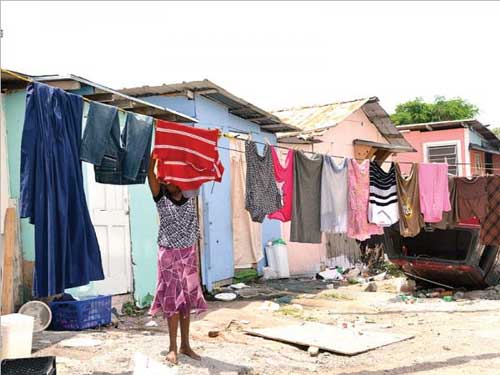 Elizabeth MP Ryan Pinder said people who own the land off Joe Farrington Road on which a shantytown was built, could face penalties if they do not soon comply with a government order to bring the area up to housing and environmental standards.
Many houses in that shantytown were destroyed by fire last week.
Pinder said the landowners have already received notices of violation of building codes and utility connections, and he thinks the date for addressing these infractions has passed.
He said the landowners could face enforcement proceedings, fines or the government could remove the structures in question.
Pinder said while he knows the identities of the landlords, whom he said live in his constituency, he does not think it was his place to reveal their names.
Last week, attorney John Bostwick II said the landowners will not allow people displaced by the fire to rebuild.
Bostwick said his clients are "eager" to assist the government in enforcing the health and environmental compliance request.
According to the National Emergency Management Agency, more than 100 people were left homeless and at least 30 homes were destroyed in the blaze.
An estimated 400 people live in the community, according to government officials.
Some residents of the area said yesterday they are jobless, penniless and have no means to return home to Haiti, but would go if their travel expenses were paid for.
"Government financing of repatriation efforts is for those who have been detained here illegally and against the immigration laws," Pinder said.
"I think it would be out of the ordinary for government to finance voluntary travel back home for somebody."
Joel Pierre, who claimed he was born in The Bahamas and lived in the shantytown, said at least three residents have left for Haiti since the fire.
He said more are ready to go, but cannot afford to. "They are willing to go back because if they are not working, what are they going to do?" Pierre asked.
"Where are they going to find the money to pay the apartment to live? They can't stay on the street. They are willing to go back home.
"According to the meeting we had the other day with the Haitian ambassador, some of them are willing to go."
Pierre said the residents were told on June 19 through a notice from the landowners that they had 30 days to vacate the area.
He said while the residents know they have to leave, many have no place to sleep, except for emergency shelters.
"We got no choice, we got to move because this is a private property, when the owner says move you got to move," he said.
Pinder said he has collected items for the fire victims and will hand them over to the Haitian ambassador for distribution.
By Taneka Thompson
Guardian Senior Reporter

fire, Joe Farrington Road, shantytown