Web Shop Case Awaits Court Date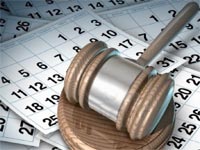 More than five months after a gambling referendum failed, the substantive case on the matter has yet to be heard in the Supreme Court.
That trial is expected to determine whether web shops will be permitted to continue their gambling operations.
Attorney Wayne Munroe, who represents a group of web shops owners, said the Office of the Attorney General has yet to file a defense to his clients' statement of claim.
Munroe said there are several steps that must be taken before the matter can go to trial. "The Supreme Court matter is a serious matter, so you don't just wander into court," Munroe said.
"You set the stage with paper. The judge will have a bundle of papers, a bundle of pleadings, a bundle of documents, and it takes time to do the steps necessary to get those bundles together.
To date, that matter has not been tried, according to the attorney, though he believes the web shop matter will not take that long.
"In this matter, the only thing I see them resisting is the disclosure of the Cabinet minutes," Munroe said. "They may try to oppose that on executive privilege grounds, and we may have a hearing about that."

court, gambling, law