Sex Assault Acquittal Causes Anguish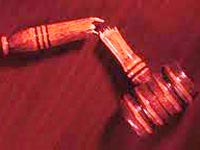 A jury's decision to acquit a man of sexually assaulting a pre-teen girl in a church led to emotional responses from the defendant and alleged victim.
Leroy Adderley, 48, cried as the jury in a majority decision of six to three cleared him of an unlawful sexual intercourse charge.
By contrast, his accuser, now 18, let out an anguished scream and had to be consoled by her mother.
Prosecutors allege that Adderley, who worked as a handyman at Agape Full Gospel Church in Golden Palm Estates, had sex with the 12-year-old girl on July 30, 2007.
The alleged victim said she was playing with friends after vacation Bible school at the church ended for the day. She said Adderley, a man she "respected and trusted", told her she was needed downstairs to answer the phone in the reception area.
The young woman said she accompanied Adderley, who dragged her into the bathroom once she reached the foyer. She said she was too terrified to scream as Adderley pulled down her pants and underwear and had sex with her while standing.
She said she did not tell her stepfather, a policeman, about the alleged sexual assault when he picked her up along with her sister and her cousins.
However, she said a complaint was made at the police station later that day and she was examined by a doctor at the hospital.
Romona Farquharson-Seymour suggested that Adderley told the girl to come downstairs because she was misbehaving.
Adderley did not call any witnesses on his behalf. Justice Vera Watkins presided over the case. Uel Johnson prosecuted.
Artesia Davies
The Nassau Guardian

injustice