Calling For Closure Of Web-Shops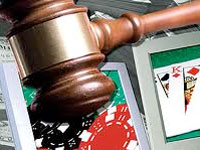 Citizens For Justice Chairman, Bishop Walter Hanchell is pleased to see that the police are finally making some effort to deal with the closure of illegal webshops. During the referendum debate, web shop owners admitted that they gambled at these shops and it is common knowledge throughout society, even to the police, that these shops are illegal number houses where gambling is carried on consistently, while they pose as computer webshops.
All legal impediments have been removed thus enabling police to do their job in shutting down these webshops, which are spreading rapidly. The Chief Justice removed the Conservatory Order  months ago, paving the way for the closure of webshops, but to date absolutely nothing has been done to address this matter.
The Bahamian public and the business community have fallen victim to these illegal gambling houses, which are not licensed by the Gaming Board and are operating in contravention to the Lotteries and Gaming Act. Furthermore, Bahamians voted overwhelmingly for the closure of these illegal enterprises that have contributed to the destruction of our families, our economy and the rise in crime.
The police must not deceive the Bahamian people. They know exactly what needs to be done and Citizens For Justice is demanding that they move expeditiously in closing these illegal gambling houses. They do not need to examine computers in any home. They need to examine the computers in the webshops, arrest the owners, place them before the courts and stop insulting the intelligence of the Bahamian people. Webshops are not licensed to gamble and since this is illegal, the police have a responsibility to do what they are mandated and paid to do. The same way other businesses are shut down for operating illegally, webshops should be closed immediately.
Citizens For Justice is calling on law abiding citizens throughout the Bahamas to sound the alarm and make their voices heard in demanding the closure of the illegal numbers racket. Wrong is wrong no matter who does it or who supports it. The people have waited too long for proper action by the government on this gambling matter. We note that the Bahamian media and the office of the Attorney General do not appear to be aggressively pursuing the closure of these illegal webshops.
Citizens For Justice
Bishop Walter S. Hanchell, J.P., Chairman

gambling, law