Kalik & Conch Salad: A Top 40 Meal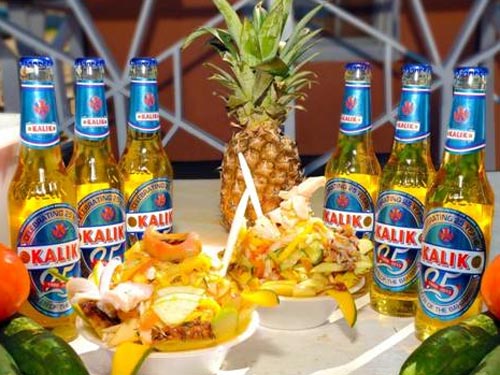 Since 1988, a cold Kalik beer paired with a spicy conch salad has been a favourite in The Bahamas for locals and visitors alike. Now, a popular website is telling the world it's one of the 40 best culinary combinations anyone can find anywhere, ranking it among such delectable delights as Shanghai's famed soup dumplings and a 7-course meal at the 'world's finest restaurant.'
Business Insider, an international website that reports on tech, finance, entertainment, lifestyle, sports and more, featured the Kalik and conch salad combination as one of the must have culinary experiences.
"Cool off with a bowl of fresh Bahamian conch salad and a cold Kalik beer while listening to the waves and burying your feet in the sand in the Bahamas," reads the article, which was published on June 24 under the heading, "40 Meals You Should Eat in Your Lifetime."
Accompanying the article's description is a photograph featuring a bowl of freshly-made conch salad and a cold Kalik set against the background of a local beach. The classic Bahamian pairing is highlighted alongside such international staples like soup dumplings in Shanghai, feijoada stew in Brazil , Baja-style fish tacos in Los Cabos, Mexico and a seven-course meal at the 'world's best restaurant,' 'El Celler de Can Roca,' in Girona, Spain.   Read more
"Naturally, we are honored to be included in such a selective list of amazing food and beverage experiences, "says Kalik brand manager, Jannifer Thurston.
"Over the years Kalik has become symbolic of the fun and pleasure of life in The Bahamas, a mixture of high quality production and a great day at the beach. It's a combination that has kept it the country's beer of choice for the past 25 years, since the very day it was introduced.
We believe that the Kalik experience is top-notch and we are happy to see the conch salad and Kalik duo, "coined the barefoot bandit special" ranked right up there with the best cuisine and beverages of other countries."
This recognition comes on the heels  of Kalik's celebration of its 25th anniversary and a number of events and promotions revolving around the celebration of the Kalik brand, including a redesigned 25th anniversary label and the celebration of The Bahamas' 40th Independence and Kalik's 25th Anniversary via the creation of the 'Festival of the Bahama Islands.'
"This caps off what has been an exciting and eventful year for Kalik," said Thurston. "As we grow as a brand, we hope to contribute positively to the Bahamian experience and to continue to delight not only Bahamian beer drinkers but also beer lovers from around the world.  I encourage proud Bahamians all across our archipelago to raise their KALIK's in recognition of this most significant accomplishment for the cuisine of our country."
First brewed by Commonwealth Brewery in 1988, Kalik has maintained its position as the quintessential Bahamian beer for over two decades. From its incarnation, it has become representative of the Bahamian experience – its name is spawned from the sound of cowbells ringing during a Junkanoo parade. The locally brewed beer's dominance of the Bahamian market place is an attestation to how well-loved it is, and, according to the Business Insider e-news, it has its share of fans from around the world as well.
Diane Phillips and Associates
Caption: Barefoot Bandit Named as one of 40 Meals to Eat in A Lifetime – Business Insider, an international website that reports on tech, finance, entertainment, lifestyle, sports and more, featured the Kalik and conch salad combination as one of the must have culinary experiences. (Photo by Charles John.)

cuisine, food