Miami Protestors Halt Repatriation To Cuba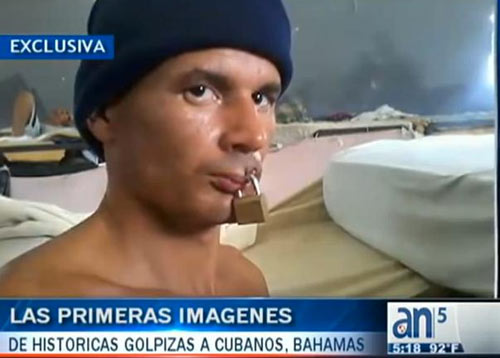 The Bahamas government Thursday started — then stopped — the repatriation of 24 undocumented Cuban migrants, including eight who have been offered asylum in Panama, according to a Miami group that has been supporting the Cubans.
The 24 were told early Thursday that they were being returned to Cuba, handcuffed and put on buses at the Migrant Detention Center in Nassau, said Democracy Movement chief Ramón Saúl Sanchez, who on Monday called off a hunger strike in favor of the migrants.
"We immediately contacted the U.S. and Panamanian government and others and just 15 minutes ago we learned the repatriation had been stopped and that the people are back in the center's dining room," he told El Nuevo Herald Thursday afternoon.
"At least we stopped the repatriation for now, although we retain the option of renewing the hunger strike," Sánchez said.
But Sanchez said late Thursday that his group has been told the detainees will be repatriated on Friday.
The Cubans' status was scheduled be discussed Monday at a meeting of Bahamas Foreign Affairs and Immigration Minister Fred Mitchell, Guillermo Cochez, former Panama ambassador to the Organization of American States, Miami lawyer Lorenzo Palomares and Miami banker Raymond Molina.
Bahamian authorities are holding 50 undocumented Cubans at the migration center, some for as long as 11 months. Most were intercepted as they tried to make their way to the United States. At least three already lived in the United States and were suspected of people smuggling.

cuba