Rick Fox Interested In Bahamas Film Industry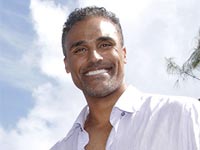 Tourism and Investment Ambassador Rick Fox, during his visit to Grand Bahama over the weekend, expressed an interest in having The Bahamas be in the forefront instead of serving as the backdrop like it has been for a number of feature films over the years.
In fact, the former professional basketball player turned television and film actor said, he has "more interest"  in cultivating the country's film industry than he is currently at liberty to discuss.
"(I have) more interest than I can probably elaborate on right now because it's going to take a shared effort to continue to grow that,"  he said.
Still, Fox said, he sees the potential for growth in the nation's film industry, including possible film festivals in Grand Bahama and careers for Bahamian storytellers, directors and actors.
Fox, who was on island scouting investment opportunities, made the remarks at a media briefing in the Count Basie Square in the Port Lucaya Marketplace last Friday.
Various Bahamian islands have been featured as a setting for major blockbuster and independent films, including Casino Royale, Why Did I Get Married Too?, and several of the Pirates of the Caribbean films.
In the future, however, Fox hopes movies filmed in the country will not only feature the beauty of the islands, but the talent of its natives.
" I think there's unbelievable potential in our creative community. I've read a number scripts from a number of  Bahamian screenwriters,"  Fox said.
"Not enough of our stories have been told. "We've had Hollywood come through, we've had other individuals come in and use our backdrops and I don't know how many of our people theyâ ve actually put on camera or actually (let) hold a camera and we need more of that." 
With his long history of playing professional basketball in Los Angeles, California, and making a number of cameos on the small screen and in movies, Fox has made a "strong"  network base which, he said, he would be happy to use.
"I want to see Bahamian stories told,"  he said. "I want to shoot films in The Bahamas. I've created content before and I'm tired of doing it in locations where it's not giving back to an area where I care about. So that's been my quest when it comes to the entertainment business." 
Nina Laing
The Freeport News

celebrities, film