Urgent Call for Freedom of Information Act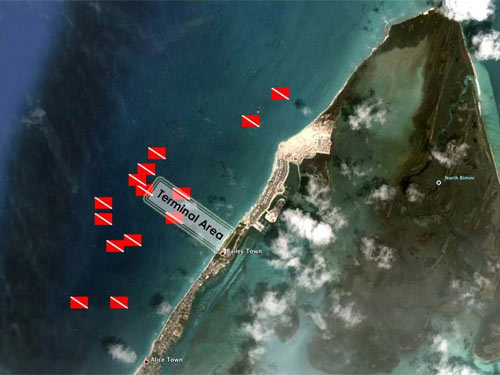 Two environmental groups representing hundreds of members renewed what they have called "an urgent cry" for a Freedom of Information Act, declaring that a barge laden with pipes and construction materials entered the harbor and no one has been able to find out why it is there and what it is doing.
"This is no longer a call for a Freedom of Information Act, this is an urgent cry," said environmental consultant and attorney Romauld 'Romi' Ferreira, a director of the fast-growing environmental movement, Save The Bays.
"We have had frantic communications from people in Bimini both directly to us and to our partner, Bimini Bay Coalition, pleading with us to get the information they cannot get. This barge pulled into the harbor entrance at South Bimini August 19 carrying more than 400 large tubular pipes stacked four storeys high."
According to Bimini Blue Coalition and Save The Bays, calls went out to various officials, including the Island Administrator, without success.
"The closest thing we got to answer is the 'better plan' seemed like a pretty good idea,'" said the Coalition.
"Are they going to dredge the harbor? Build a cruise ship dock? Expand a marina? Build a hotel? The people of Bimini, residents and businesses, have a right to know," said Ferreira. "Freedom of Information is a basic right of a democratic society. That's why nearly every country in the world, even the most war-torn, have Freedom of Information legislation in place – the people have a right to know what is happening in their own back yard and yet once again people in Bimini cannot find out what is going on right in their own harbor. And this is in a place where the majesty of the waters is what has been their rightful currency – the allure that draws tourists to visit and citizens to remain glued to this little island in the sun with some of the most breathtaking waters in the world."
The controversy in Bimini arose weeks ago with news that Malaysian-based Genting intended to bring up to 3,000 passengers a day in by sea to its new casino at Bimini Bay Resort, a plan the government has repeatedly said would provide jobs and boost the economy while many Biminites have said would destroy their way of life and potentially harm 11 of the 12 coral reefs that are considered among the natural treasures of the undersea world.
All of this – the casino, the ferry carrying thousands of people to a tiny island already stressed for resources — was being arranged without consulting the people of Bimmi to see what they wanted," said Ferreira.
"It's issues like this that are driving more support for Save The Bays and our ability to bring together the often smaller voices on various islands who are just as committed to doing the right thing for their island but do not have the strength that a united, large non-profit organization can bring with the resources to be heard and to offer solutions."
Formed earlier this year, Save The Bays has garnered nearly 5,000 signatures on a petition to the government requesting passage of a Freedom of Information Act, an Environmental Protection Act and an end to unregulated development.
"The time for deal behind closed doors is over," said Ferreira. "We live in a land of sunshine. Let's conduct our business the same way."
Diane Phillips and Associates
Top: Bimini Beach Google Shot
Bottom: Mystery barge in Bimini harbour August 2013
Mystery barge — Barge with hundreds of pipes arrives at Bimini Harbour August 19, but members of Bimini Blue Coalition say they cannot find out what the plans are in their own back yard. Dock? Dredging? Terminal? Hotel? Their frustration leads environmental movement Save The Bays to renew its urgent call for a Freedom of Information Act.  (Bottom photo courtesy of Bimini Bay Coalition)

environment, islands, marine