3rd Kayak Challenge: Great Day for Great Causes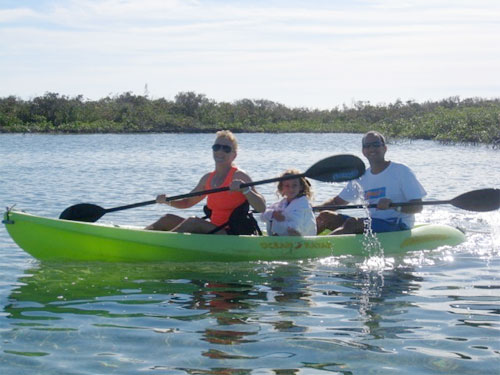 Friends of the Environment and the Abaco Cancer Society challenge you to paddle for a cause! The two Abaco-based non-profits are partnering on the Abaco Kayak Challenge, Up a Creek With a Paddle – an event to encourage the public to be healthy and enjoy our beautiful environment. Abaco's third annual Kayak Challenge on Saturday, November 9th at Pete's Pub & Gallery in Little Harbour, Abaco.
The event was created to raise awareness and support for these two Abaco charities by encouraging people to get out and enjoy Abaco's beautiful outdoors in a low-impact eco-friendly way. Many of the paddlers are either cancer survivors or paddling in support of someone who has battled or is battling the disease. The courses for the Kayak Challenge are located within the proposed East Abaco Creeks National Park, a network of mangrove wetlands that provide valuable habitat to a diversity of marine species. Friends of the Environment created the national park proposal in partnership with the Bahamas National Trust. It is currently being considered by Government. The proposal seeks to conserve these habitats while still allowing for fishing and other cultural activities to continue. Areas such as this are very important to the marine environment of The Bahamas and our way of life!
One of our focuses this year will be to try and ensure a higher presence of paddlers from other islands.  To this end, we have managed to secure a commitment from Bahamas Ferries to run the ferry service from Nassau to Sandy Point, Abaco to accommodate the paddlers.  There will be a discount of 25% per person and 20% per vehicle.  However, the catch is that they will require a minimum of 6 vehicles and at least 40 individuals.  We must have the minimum requirement by October 15th.  So, advance registration is a must!  We are also happy to assist with queries regarding accommodation and will assist with transport of crafts to Little Harbour.
Any craft you can paddle will be welcome, including kayaks, paddle boards and canoes – just no engines!  There will be 3 courses to choose from: 5 miles, 8 miles, or 13 miles that will take paddlers into and through the scenic tidal creeks of the Bight of Old Robinson, which is included in the proposed East Abaco Creeks National Park. Support boats will be on hand to assist paddlers, make sure they stay on course and provide water and snacks.  Paddlers will be welcomed back with a beach party featuring music, pig roast and raffle of a new Hobie Lanai Kayak. Last year we had more than 80 paddlers winding through the creeks and a large group waiting at Pete's Pub to welcome the paddlers home.
Paddlers can either pay a $25 registration fee and agree to raise $100 in sponsorship by the day of the event, or pay a $100 registration fee.  FRIENDS and the Abaco Cancer Society are also seeking business sponsors to support the event who will be featured on the event t-shirts. If you are interested, please contact sasha.fair at gmail.com.
More information about the event and registration forms are available on the Friends of the Environment's website: www.FriendsoftheEnvironment.org or on Facebook under the event 3rd Annual Kayak Challenge. We hope to see you there!

family, health, sports