A Year Later Jitney Reforms Still In Talks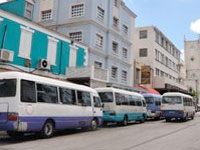 One year on since the renewed promise to reform public transportation, the government is still in talks with jitney owners over the impending unified bus system.
The issue of how to address the current system of "leasing" is still a major concern, according to Transport and Aviation Minister Glenys Hanna-Martin, who expressed confidence that discussions were moving forward in good faith.
"You have the franchise holder with one interest, and the leaser with another interest, how that person will be dealt with in the unified bus system is a major concern," said Mrs Hanna-Martin.
"From our point of view it's part of the analysis, how will someone that fits that description, how will they fit in that new paradigm.  A lot of persons have been leasing for decades, we have to make determinations on all these matters."
And she added: "We are committed to a transportation system that makes sense in this country, one that is reputable and one that people feel comfortable with."
Plans for a unified bus system have moved at a snail's pace under successive PLP and FNM administrations.

public transportation