Heineken Announces 'Under the Cap' Winner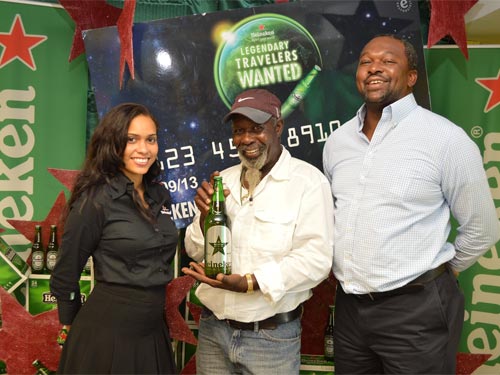 After more than eight weeks of participation with over thousands of entries submitted, one lucky winner took the coveted grand prize package featuring a three-night trip to space camp in Amsterdam, a $10,000 Pre-Paid Card and 10 cases of Heineken. Michael Rolle of George Town, Exuma was officially selected as the top winner of The Voyage: Legendary Travelers Wanted during the campaign's finale at the Burns House grounds which featured performances by numerous Djs and a special performance by popular international artist Allison Hinds.
"Every place I saw a Heineken cap, I took it," said Rolle, who operates a restaurant in Exuma. "I wasn't even thinking about winning, I was just hoping to get a free Heineken every now and then. Knowing I have the grand prize and that I will be going to space camp in Amsterdam is very exciting."
The grand prize drawing was held on September 7 during an "Unseal to Reveal Grand Prize Draw Concert" and entrants were required to officially submit six "Grand Prize Draw" bottle caps at any Burns House or Butler & Sands location or at any of the weekly events in order to be eligible for a prize. Final entries were accepted at the event up until 8pm before Rolle was picked as the top winner, bringing a very successful promotion to a close.
"We are thrilled with the overall response of The 'The Voyage' unseal to reveal promotion as part of Heineken's global campaign" said Heineken Brand Manager in The Bahamas Janay Pyfrom. "With Voyage, we wanted to go further than inspiring men to be resourceful and open to the world.  We are giving Mr. Rolle the opportunity to go beyond the borders of his comfort zone. We are ecstatic that participation came from all islands and the instant beer and mini prizes have made thousands of customers winners. Participants aspired to be the lucky winner of a trip to SXC Space Camp in Amsterdam, The Netherlands. We congratulate Michael Rolle on his success."
Diane Phillips and Associates
Caption: How Many Bottles of Beer on the Wall? – Michael Rolle of George Town, Exuma walked away with 10 cases of Heineken, a $10,000 VISA card and a trip to space camp in Amsterdam as the grand prize winner of Heineken's summer-long The Voyage: Legendary Travelers Wanted campaign. Pictured (l-r): Janay Pyfrom, Heineken Brand Manager; Michael Rolle, grand prize winner and Brent Ferguson, Group Sales Manager, Commonwealth Brewery Limited. (Photo by Charles John.)

awards