'Real Housewife' Shows Off Bikini Bod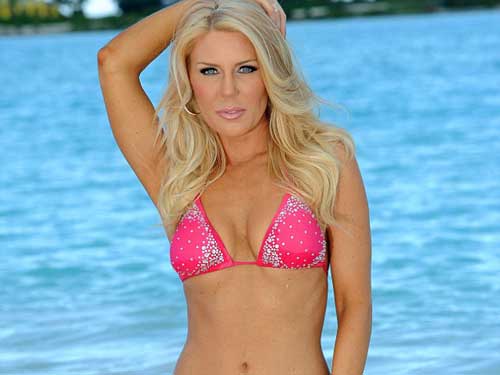 After reportedly being fired from The Real Housewives Of Orange County, Gretchen Rossi may be clinging on to the hope of another chance to make things right.
Attempting to prove her place, the 34-year-old reality TV star decided to put on a show for photographers as she holidayed with her fiance Slade Smiley at Sandals Emerald Bay in Great Exuma, Bahamas.
Showing she has a body made for the limelight, the blonde bombshell made sure she was snapped in her tiny, bedazzled pink bikini, kneeling on the tropical sands in front of the crystal blue ocean.
Pretending to be a Baywatch babe, the star's blonde locks were effortlessly tousled in loose waves, flowing down her bronzed skin, as her face was covered with a full face of make-up.
Strategically constructing her pose, Gretchen placed her giant engagement sparkler front and center by placing her polished hand on her petite hip.
But the beach day – part of Sandals Emerald Bay Celebrity Getaway and Golf Weekend – wouldn't have been complete with frolicking on the beach with her beau.
She may have even played a little game of frisby, seen holding a white one in the air as she engaged in some sort of victory dance.
Meanwhile, Slade just seemed like he was there for support, not showing much interest in being near the water, as he sported bright red swim trunks.
Star Magazine recently reported that Gretchen and co-star Alexis Bellino were fired from the Bravo series due to a lack of storylines.
Although the show sparked a romantic relationship between Rossi and Slade Smiley, culminating this season with an on-camera proposal, their love wasn't strong enough to engage audience members.
Especially after reports surfaced that their televised engagement was fake.
While filming season eight, the blonde bombshell is said to have even gotten into an altercation with producers, because they thought her life was too boring.
The 34-year-old broke down in tears while filming the reunion, after her castmates said they felt her proposal was done just for ratings, as the couple still has yet to set a date for their nuptials.
Remaining cast members Tamra Barney, Vicki Gunvalson, Heather Dubrow, and Lydia McLaughlin will return for the ninth season, which begins filming in October.
Source: Daily Mail UK