All Ceramic Exhibition Opens October 24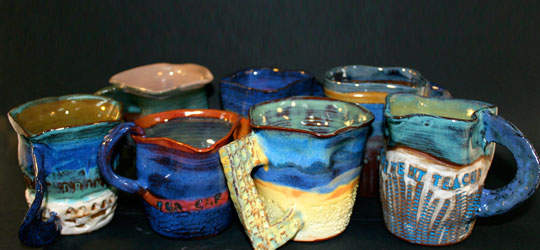 "My Flamboyant Teacups and Bowls" is the theme of ACE 2013, the third biennial All Ceramic Exhibition. As with the two previous shows in the series, ACE 2013 will feature the art of a number of highly creative Bahamians.
A thematic spinoff from ACE 2011, which showed that utilitarian objects, such as teapots could become high art in the hands of the truly creative, this year's event promises to be even more exciting. It will feature the work of a diverse group of thirteen talents, including Anina Banks; Sue Bennett-Williams; Jessica Colebrooke (event organizer); Lisa Cordella; Mary Deveaux; Gina Luree; Tina Maycock; Vincent McWeeny; Neko Meicholas; Jeffrey Meris; Quentin Minnis; Nadine Munroe and Imogene Walkine.
The All Ceramic Exhibition was founded in 2009 by well-known Bahamian ceramicist Jessica Colebrooke who felt that ceramics in The Bahamas was not getting the attention that it deserved as a beautiful fine art form. She decided to create an event that would help to raise its public profile.
Colebrooke notes, "Apart from my desire to develop in The Bahamas an appreciation for the beauty and artistic merit of ceramics, I also wanted to work towards ensuring the sustainability of the art form in our country. This can only happen if we encourage younger Bahamians to become ceramic artists, so a scholarship award became an essential part of ACE.
"Since its inception the All Ceramic Exhibition has been able to give two scholarships. The first was awarded to Alistair Stevenson who has now gone off to China to continue his studies and the second award went to Jovana Sands," Colebrooke said.
The ceramicist added that although teacups and bowls may seem to be extremely utilitarian products, the goal of ACE is to demonstrate that they can be so much more. "We hope to raise a plain everyday item to the level of fine art collectable" says Colebrooke.
The key word "flamboyant" is basically the artists' license to raise the production of the mundane teacup and bowl to the level of fine art. "We challenged these artists to take their designs to wherever their imaginations led them," Jessica Colebrooke said.
We would like thank our sponsors: DanBrad Ltd; Dawn Davies; The D'Aguilar Art Foundation; Neko and Patricia Meicholas and Jessica's Tileworks Studio Ltd for their ongoing support of the All Ceramic Exhibition.
The opening reception of ACE 2013 will be held at Doongalik Studios on Village Road on Thursday, October 24, 2013 at 6:30pm. The exhibition will continue until Saturday, November 9, 2013. The general public is invited to come and view the pieces during normal business hours from Monday to Friday.