Alliance Francaise Features Natalia Valentin In Concert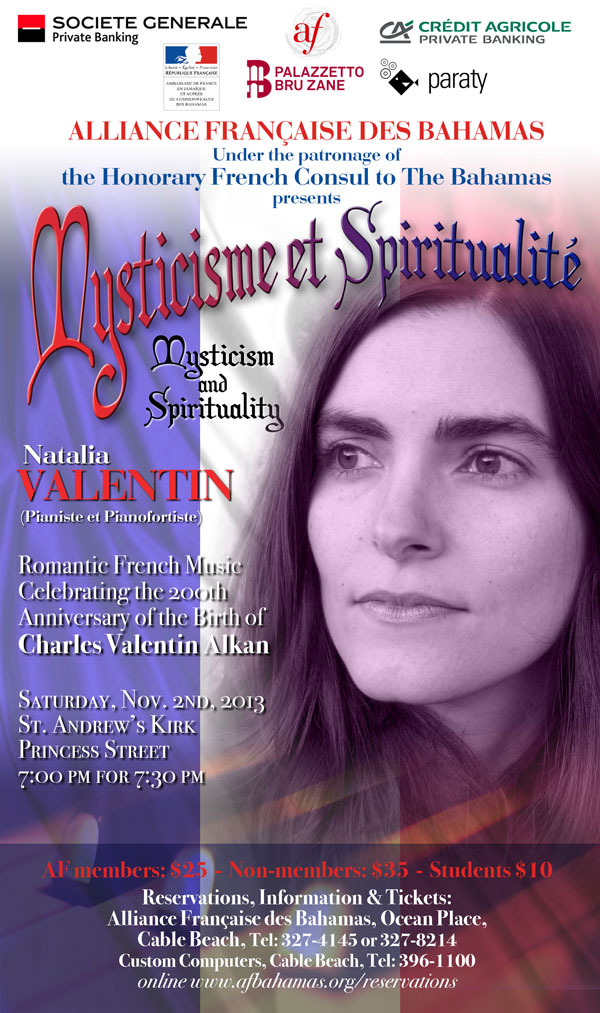 The Alliance Française, in association with the Palazzetto Bru Zane and Paraty Productions, under the patronage of the Honorary French Consul, Mr. Dominique LEFEVRE, will welcome Ms. Natalia Valentin, a classical pianist and pianofortiste specialized in French Romantic music,  to The Bahamas at 7:30 PM on Saturday, November 2nd, 2013, at St. Andrew's Kirk as a part of her tour in the Region and the Alliance's cultural outreach programme.
Natalia is supported by the Palazzetto Bru Zane which is the Centre for French Romantic Music and encourages talented musicians such as Ms. Valentin to promote this period of music abroad. Her programme celebrates the 200th anniversary of the birth of Charles Valentin Alkan.
She will interpret a programme entitled "Mysticism and Spirituality" comprised of works by Beethoven, Mozart, Mendelssohn, Chopin and of course Alkan.
BIOGRAPHY
(see French version on website)
Having successfully completed her piano studies at the Conservatoire Régional (CRR) in Paris with a Premier Prix in piano performance in 2000, she began specializing in Fortepiano, studying with Patrick Cohen at the CRR. In 2003, she obtained an Early Music Diploma, alongside a Premier Prix in chamber music at the Gustave Charpentier Conservatory.
Natalia Valentin then completed her studies at the prestigious Paris Conservatory (CNSM) in June 2007; she obtained a Premier Prix in Fortepiano performance with high distinction, in a unanimous vote by the jury. While studying under professors Patrick Cohen, Pierre Cazes, and Kenneth Weiss, Natalia Valentin worked to perfect her fortepiano technique under the guidance of Susan Alexander-Max and Arthur Schoonderwoerd.
Natalia Valentin has performed both solo and chamber music repertoire in several prominent French music festivals, including: Courants d'Airs (Manosque), Musicancy (Bourgogne), Les Solistes de Demain (Auvergne), in addition to appearances at the Gaudete (Varallo Sesia, Italy), Phoenix (Luzern, Switzerland), Antigua Musica de la Laguna (Tenerife, Spain) and tours of the US and Mexico following an invitation from the Laredo Philharmonic Orchestra (Texas). Since 2008 she is regularly invited by the National System of Youth and Children's Orchestras of Venezuela to perform concertos with the Caracas Symphonic Youth Orchestra conducted by Dietrich Paredes at the Teresa Carreño Theater and chamber music recitals with the soloist of the Simon Bolivar Symphonic Orchestra.
She participated to the Chopin's Year festivities in La Cité de la Musique of Paris, playing several recitals on a Broadwood Fortepiano played by Chopin himself during his last tour in England. In November 2010 she is invited by the Musée de l'Armée in Paris to perform Mozart and Haydn's concertos with the Trio Euterpe and the soloist of the Paris Orchestra, and in 2012 she performed a special program for the Napoleon's Russian Campaign festivities.
Natalia Valentin currently teaches fortepiano and piano at the Bobigny Conservatory in Seine St Denis and at the Vigneux-Sur-Seine Conservatory, both suburbs of Paris. In September 2010 she was engaged to hold a fortepiano workshop in the Hochschule Luzern Musik and since 2011 she is assistant professor at the Accademia Europea delle Tastiere Storiche of Villa Bossi in Italy.
In 2009, Natalia Valentin recorded her first album dedicated to the Rondos and Bagatelles of Ludwig van Beethoven and performed on a pianoforte originally from Southern Germany. This record has been really welcomed by the medias in the music field, it won 5 diapasons of the Diapason Magazine, three stars from Classica magazine, TOP5 of the year in Fanfare magazine and was awarded a Coup de Coeur prize by Classique-News.
Tickets for this outstanding concert are available at the Alliance Francaise des Bahamas, Cable Beach, Custom Computers West, or online at http://www.afbahamas.org/ .
A donation of $25 for members, $35 for non-members and $10 for students will be asked to help defray costs and contribute toward the Alliance's cultural and outreach programmes.
For further informaton, or to assist in these programmes, please contact the Alliance's Director, Madame Italia Watkins-Jan at 327-4145 or 327-8214.
The Alliance Francaise des Bahamas is the official organisation for French in The Bahamas and is a part of the world-wide network of Alliance Francaises. It falls under the jurisdiction of the French Embassy in Jamaica and is associated with the Alliance Francaise Platform in North America.
Natalia Valentin  – pianiste et pianofortiste
Saturday, November 2, 2013 – Samedi 2 novembre 2013
7:00 PM for 7:30 PM – 19:00 pour 19:30
St. Andrew's Kirk, Shirley Street
Alliance Francaise des Bahamas

arts, culture, music