AMVER Awards Presented to Search and Rescue Vessels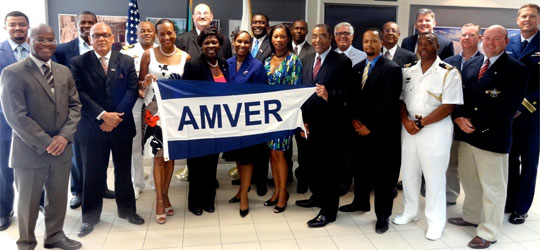 On September 30, U.S. Chargé d'Affaires John Dinkelman and Lieutenant Commander Doug Jannusch, the Coast Guard Liaison Officer to The Bahamas and the Turks and Caicos Islands, officially recognized award-winning Bahamian flagged vessels and their companies for their strong participation during 2012 in the United States Coast Guard's (USCG) Automated Mutual-Assistance Vessel Rescue (AMVER) system.
Attended by representatives of registered companies and government ministries, the awards ceremony also provided an opportunity to redouble vigilance regarding search and rescue, recreational boater safety, and aids to navigation.
AMVER is a USCG managed search and rescue program in which merchant ships make themselves available for maritime emergency response on a volunteer basis.  In accordance with the Coast Guard's primary mission of search and rescue, it exists as a vehicle for mariners to help each other without regard to nationality with the end objective that no call for help should go unanswered. Since its inception in 1958, AMVER has proven to be an invaluable search and rescue resource, and an enduring example of international public/private partnership. It has since grown in size to include more than 22,000 vessels from more than 150 countries.
The AMVER awards ceremony is held each year to reward those participating ships which remain "on plot" for at least 128 days in a calendar year. The term "on plot" connotes a ship that has made itself available for maritime emergency response. Three companies were recognized during this year's AMVER awards ceremony held at the U.S. Embassy: Bahamas Ferries Limited, Campbell Shipping Company Limited and Clipper Group. Each company representative was presented with a Letter of Appreciation, a Certificate of Merit to each ship, and a colored AMVER pennant, representing a ship's continuous participation in the program.
In 2012, AMVER reported a one-day record number of 5,461 vessels "on plot", and achieved an average of more than 5,300 ships "on plot" per day during the course of the year.  In total, these vessels rescued 496 persons during 320 cases.  The success of AMVER reinforces the important contribution provided to the international maritime community by crews, ships, companies, search and rescue authorities and governments in their global commitment to saving lives by preventing maritime accidents before they occur.
United States Embassy, Nassau
Caption: U.S. Chargé d'Affaires John Dinkelman and Lt. Commander Doug Jannusch, USCG Liaison Officer with representatives of registered companies and government ministries, including RBDF Commodore Roderick Bowe.

marine, United States