Bahamian Vies For Director Spot On Jimmy Cliff Video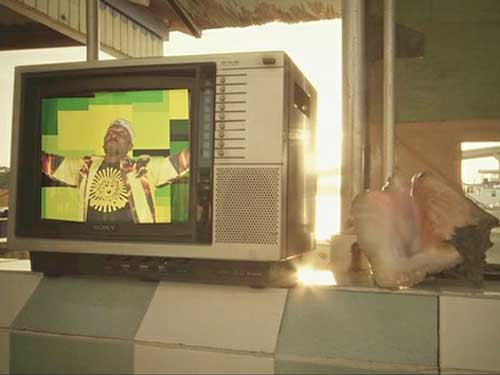 When voting officially closed on October 1, Bahamian Lavado Stubbs was in the top spot for the TalentHouse music video competition according to the viewer's choice selection.
The competition will select a director for the next music video created for Grammy award winning reggae musician Jimmy Cliff.
TalentHouse is a platform for creative workers to access free tools and potential funding to launch collaborations. When the Bahamian director came across the "Create Jimmy Cliff's next music video" opportunity he grabbed it.
Officially launched in June, the competition invited artists to manipulate green screen footage of Jimmy Cliff singing his single "Reggae Music." On October 16, the winner will be announced. The top director will receive the chance to have their video submission used as Jimmy's official music video for the song. Lavado had 444 votes on October 1.
He is the only Bahamian competing amongst eleven other artists from around the world. He was inspired and motivated to enter the competition because he felt it was a great opportunity to work with a legendary artist such as Jimmy Cliff.
"He is not only from Jamaica but from the Caribbean as a whole. Being from the Bahamas, I'm all about Caribbean unity; I believe nations in the Caribbean are sometimes viewed as small on a global scale and we need to come together especially in the arts to show the world what we are all about," said Lavado.
Born and raised in Nassau, Lavado is a director and producer who has been on a journey to express his voice through visual art. He has created a myriad of award-winning films and music videos that he considers to be works of art. He has experience in the Bahamas, Canada and the United States.
This is not Lavado's first time entering a Talent House competition. The previous competition he entered was for the Grammy- award-winning group called "Ok Go," where he was asked to create a music video for their latest single.
"I was honoured to be awarded a finalist out of eighty submissions. My video was screened at Saatchi & Saatchi New Directors' Showcase at the Cannes Lions Festival of Creativity in Cannes, France. My video was the only video from the Bahamas in the competition, so I felt like I really needed to represent," said Lavado.
In the Jimmy Cliff competition, Lavado said there are two opportunities to win: there is the public voting win which will be labelled "People's Choice" and there is also going to be a winner chosen by Jimmy Cliff himself that will be the official video of his single, "Reggae Music."
With Lavado's entry, he said he knew the average submission would be to just place things in the background of Jimmy Cliff's green screen, so he decided to do something a little different.
"I wanted to do something out of the box. My concept is Jimmy Cliff travelling on this vintage 1970's or 1980's TV, which shows that music travels throughout time bringing joy into people's lives. In pre-production I searched all around Nassau for an old TV and finally found one that you see in the final product. I took the Jimmy Cliff green-screen footage they gave us and did a post-production/editing process called "tracking" to place it on the TV screen. It's a very hard process that I worked with my editor to achieve. This gives the effect of Jimmy Cliff appearing on the TV," said Lavado.
"My production company, Conchboy Films, teamed up with another Bahamian company called Sky High Media to produce this video. Sky High Media is owned by Lance Knowles and George Mosko. Lance Knowles did the cinematography for this video," he said.
The video was shot in various places and scenes around Nassau such as a house off Shirley Street, Montagu Beach, Kemp Road and Potter's Cay Dock.
Lavado said since the release of the video, the word of the competition is spreading and the feedback has been amazing.
"I appreciate the support from my Bahamian people; it motivates me to continue on my film journey. It's great to have that support especially seeing that this video is the only video not only from the Bahamas but from the Caribbean in this competition. All the other video entries are from the U S and Europe," said Lavado.
By Alesha Cadet
Tribune Features Reporter