Building a Better Community and Lovin' It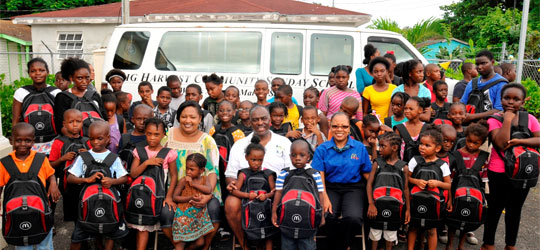 Four hundred students, including 200 in the Bain & Grants Town area, and others at Palmdale Primary School, D.W. Davis Junior High School and Mt. Carmel Preparatory Academy headed to school this year with snazzy new backpacks teeming with supplies, thanks to McDonald's local umbrella company DanBrad Ltd. and St. Andrew's Presbyterian Kirk. For the second year in a row, the co-sponsors distributed the backpacks – including pens, pencils and books – under the theme "Building Communities One Neighbourhood at a Time."
"For the last two years, we have partnered with McDonald's who generously supplied 200 bags each year to children in this immediate area as part of its overall contribution," said St. Andrew's Kirk Pastor Bryn MacPhail. "While our school bag and supplies initiative is an annual event, our congregation's ministry in Bain & Grant's Town is ongoing. One of our members, Mrs. Diana Bullard, runs an after school program every school day out of the Red Cross building on Blue Hill Road September through June. Each July, the Kirk brings in mission teams to run Vacation Bible School for children in the neighbourhood. And each Sunday the Kirk pays for a bus to pick up children from Bain & Grant's Town and bring them to the Kirk for worship and Sunday School. Our recently framed mission statement explains our aim: 'Pursuing Christ-likeness and Community Transformation according to the Word of God'."
In addition to its largest donation to the church group, McDonald's provided backpacks and school supplies for Palmdale Primary, Rally in the Alley and Big Harvest Community Sunday School students.

"We are always grateful to Ms. Bethel for her company's charity," said John Ferguson, superintendent of the Big Harvest Community Sunday School, referring to Earla Bethel, president of McDonald's and an elder at St. Andrew's Kirk. "It goes a long way in helping because our organization caters specifically to underprivileged and at-risk children. We appreciate their kind generosity because it relieves some of the pressure off of the parents in getting back to school supplies."
With an enrolment of more than 400 students and growing, Big Harvest Community Sunday School is a community-based institution with a mission to inspire children and assist them in focusing by being involved in spiritually-based activities including Sunday School, reading sessions on Tuesday evenings and recreational periods throughout the weekend for the children in the Bain & Grants Town area.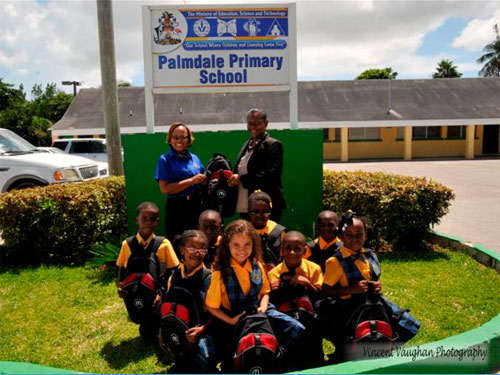 DanBrad Ltd, which operates three McDonald's restaurants in New Providence, established the initiative three years ago with the aim of helping to send students back to school feeling good about themselves, equipped with the supplies they need to perform well and with the knowledge that people — even strangers — care about them. It was the second year the effort was co-sponsored by the 200-year-old church.
Diane Phillips and Associates
Caption:
McDonald's Serves Up Supplies for Big Harvest & Palmdale Primary — Big Harvest Community Church Sunday school students (above) and select students from Palmdale Primary School students (below) returned to class this year with sharp new back packs filled with school supplies, thanks to a partnership between McDonald's and the St. Andrew's Presbyterian Kirk. (Photo by Vincent Vaughan)

charity, students