Cable & Wireless Announces New CEO
Cable & Wireless Communications Plc ("CWC"), the parent company of The Bahamas Telecommunications Company (BTC), is pleased to announce the appointment of Phil Bentley as Chief Executive Officer, succeeding Tony Rice, with effect from 1 January 2014.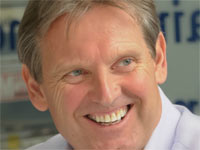 Phil will also succeed Tony as the Chairman of the Board of BTC on the same date.
Phil was previously Managing Director at British Gas, the UK's leading energy and services provider between 2007 and 2013. Prior to this he was Managing Director, Europe and Group Finance Director at Centrica plc and served on its Board since 2000.
Tony has decided to step down as CEO, ahead of the establishment of CWC's new executive office in Miami, Florida, and will leave the CWC Board at the end of 2013.
Phil will take forward the Company's strategy of establishing CWC as the leading provider of mobile, fixed line and broadband communications services in Latin America and the Caribbean region. CWC is investing in its operations in the region, particularly in mobile data, high-speed broadband and customer experience systems, as well as considering strategic acquisition opportunities. It has also committed to reducing operating costs by US$100 million over the next two years.
Phil led the turnaround of British Gas, increasing profits from £300 million to £1.1 billion, and sales by over 30% to £14 billion. The turnaround saw British Gas lead the industry in service excellence, employee engagement and innovation. Prior to Centrica he held senior executive roles at Diageo and BP.
Sir Richard Lapthorne, Chairman of CWC, commented:" CWC is entering a new phase. Following our recent divestments, we now have a business with a single geographic focus and a strong balance sheet and we are investing in growth areas of mobile data and high-speed broadband. I am delighted to have attracted someone of Phil Bentley's calibre to lead the Company. Phil demonstrated his leadership skills at British Gas, combining strong operational capability with a real focus on customer value – experience which he will bring to CWC as we focus our business on a single region, and drive greater operational improvements.
"On behalf of the Board I would like to thank Tony Rice for his outstanding service. Tony has led the business, with distinction, through considerable change. He joined Cable & Wireless as a Non-executive Director in 2003 going on to become Finance Director of Cable & Wireless and then Chief Executive at CWC. He has reshaped the Group's portfolio while maintaining its strong market positions and evolving its services to focus on data, which has provided an excellent platform for future growth."
About Cable & Wireless Communications
Cable & Wireless Communications is a full-service communications business. We operate leading communications businesses offering mobile, broadband and domestic and international fixed line services in most of our markets as well as pay TV, data centre and hosting, carrier and managed service solutions. Our operations are focused on providing our customers – consumers, businesses, governments – with world-class service. We are the market leader in most products we offer and territories we serve. For more information visit www.cwc.com.
About Bahamas Telecommunications Company
The Bahamas Telecommunications Company (BTC) is the leading telecoms operator in The Bahamas. BTC is jointly owned by Cable & Wireless Communications (51%) and the Government of The Bahamas (49%). Cable & Wireless Communications has both management and Board control.
Serena Williams… Media & Public Relations

BTC, Cable & Wireless