Delays In Armed Robbery Trial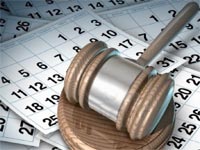 The trial of two Abaco men set to open in the Freeport Supreme Court hit a snag and had to be pushed down another three weeks.
A jury pool and witnesses had to be turned away after waiting for most of the morning for the matter to begin.
Donaldson Hall is charged with armed robbery, possession of a firearm while Jeremy Jones is charged with accessory after the fact to armed robbery.
Hall is represented by Attorney Ian Cargill while Jones appeared without an attorney.
It is alleged that on Saturday, March 25, 2012, Hall robbed Shannon Albury with a firearm of a gold steel Rolex Submariner watch, valued at $16,000.
The incident allegedly occurred on the fair grounds in Dundas Town, Abaco, while the carnival was in town.
Albury was reportedly leaving the carnival site when he was approached by a gunman who demanded his watch.
It is further alleged that on Tuesday, March 27, 2012, Jones assisted Hall for the purpose of enabling him to avoid due process of the law by attempting to escape Abaco.
Attorney Erica Kemp, who is acting on behalf of the Office of the Attorney-General, told the court before the matter got underway that pursuant to certain conversations that were had between both sides in the judge's chambers, it was agreed that the matter, because of several challenges, be set back to October 28.
Senior Justice Hartman Longley then informed the jury pool that the matter had come into some complications and could not proceed.
Before asking them to return on the adjourned day, he apologized to the jury and assured them that it would not happen again.
The judge then informed Jones, who insisted that he would be retaining a lawyer, that come October 28, if he had not already done so, the trial will begin as scheduled.
Lededra Marche,
The Freeport News

court, crime