Drug Suspect Escapes Custody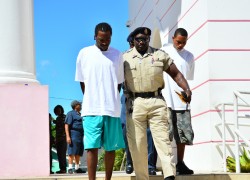 The Royal Bahamas Police Force now has some explaining to do after a suspect in court revealed that one of his co-accused escaped police custody over the weekend in Bimini.
Sean Livingston Solomon, 40, of Grand Bahama, was about to be arraigned when Magistrate Andrew Forbes realised he wasn't even in the courtroom.
According to police reports, 26-year-old Anderro Clarke and 19-year-old Kareem Chea, both of Bimini were caught with 411 pounds of marijuana on Saturday, October 5th on that island.
The men were charged with conspiracy to possess dangerous drugs with intent to supply and possession of dangerous drugs with intent to supply.
Because Solomon had allegedly escaped police custody this weekend, Magistrate Forbes issued a warrant for his arrest and the prosecution informed the magistrate that police in Bimini had already begun searching for him.
The Bahama Journal made several attempts to contact both Assistant Commissioner Everick Seymour and the Officer in Charge of the South Bimini Police Station, but none of the men could be reached.
As for Chea and Clarke, they pleaded not guilty to both charges and will remain on remand at Her Majesty's Prison (HMP) until March 24th and 25th,2014 when they will return to court.
Click here to read the complete article on jonesbahamas.com

corruption, crime, drugs, incompetence, police