Michael Misick to Be Extradited to Turks and Caicos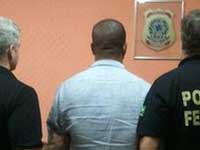 Former Turks and Caicos Premier Michael Misick's extradition was approved unanimously by Brazil's Supreme Federal Court on Tuesday.
The move ends a years-long saga over the fate of Misick, who is wanted in TCI on a number of serious charges, including corruption.  According to Brazilian media reports, the court found that Misick could not be considered a victim of political persecution and was not eligible for asylum.
Misick was the face of a corruption scandal that led to the suspension of democratic government by the United Kingdom; that came after a commission of inquiry led by Sir Robin Auld found evidence of systemic corruption in the TCI. Misick has denied the charges.
Misick had served as the Turks and Caicos' chief minister from 2003 to 2006, and eventually as the TCI's first-ever Premier from 2006 to 2009, when the British imposed direct rule.
After his whereabouts were unknown for some time, Misick resurfaced in Brazil in December 2012, when he was arrested in Sao Paulo.
Turks and Caicos prosecutors issued a formal request for extradition at the end of January 2013.
"The decision of the Brazilian Courts today to extradite Michael Misick is welcome as it is in the best interests of the TCI that allegations of wrongdoing are thoroughly investigated," Turks and Caicos Attorney General Huw Shepheard said in a statement. "Michael Misick's lawyers vigorously opposed his extradition, but after hearing arguments on both sides the court was unanimous in its decision.
Source:  Caribbean Journal

courts, crime, Turks & Caicos