Alpha Phi Alpha Hosts 36th Anniversary Scholarship Ball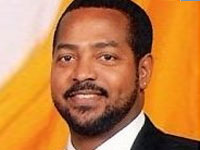 The local chapter of Alpha Phi Alpha Fraternity, Inc., is celebrating 40 years of independence and doing it in Bahamian style. The Iota Epsilon Lambda (IEL) chapter is preparing to host its annual Black & Ole Gold Scholarship Ball on Saturday, December 14th at the British Colonial Hilton.
The star-studded affair will feature a cocktail reception, live Rape & Scrape entertainment and a "down home" award style dinner, accompanied by some of The Bahamas' finest performing artists.
"It's going to be epic," IEL chapter president Dominic Archer said.
"Patrons will experience a ball like none other in The Bahamas. This ball is significant to the fraternity because the revenue generated is earmarked for our annual scholarship programme."
Through its Honour's Day Convocation programme, IEL has awarded more than a quarter of a million dollars in educational assistance to deserving high school males.
Funds also assist with the fraternity's high school mentorship programme for at-risk young men, who in the past year have raised more than $25,000 in scholarships and prizes.
Over the past 31 years in The Bahamas, IEL has also forged partnerships with the Cancer Society, the Salvation Army, the Bahamas Red Cross and other civic organizations.
This year the fraternity will honor renowned Epidemiologist Terrance Fountain, for 35 years of dedicated service and leadership.
Mr. Fountain was initiated at the Nu Chapter, Lincoln University, Pennsylvania. He has served as a Past President of the IEL from 2003-2008. Based on a strong fraternity experience Mr. Fountain has life membership status with the fraternity.
Tickets for the event are $150.00 and will be made available, by contacting Dominic Archer at 376-0256 or Lynden Maycock at 326-0071.About Terrance Fountain
Terrance Fountain completed his undergraduate work at Pennsylvania Lincoln University in Nebraska, and his professional certifications in Epidemiology and Biostatistics at Emory University, Atlanta and University of Toronto.
In his years of service to The Bahamas, Mr. Fountain has held the position of Manager of The National Drug Observatory, Director of The National Health Information & Research Division, and selected as short-term Consultant for Research Methodology & Project/Program Evaluation.
He is an avid softball player and has served as both President (2006-2009) and Vice-President (1994-2006) of the Cancer Society of The Bahamas. Mr. Fountain is a past Vestry Member at Christ Church Cathedral and past member of the Anglican Diocesan Council. He is a family man as he holds his family secondary to his faith; he is married to Mrs. Patty Fountain and father of one son, Jeffery and one daughter, Crystal.
About Alpha Phi Alpha
Alpha Phi Alpha, is the first intercollegiate Greek-letter fraternity established for African- Americans, was founded at Cornell University in Ithaca, New York on 4 December 1906 by seven college men who recognized the need for a strong bond of Brotherhood among African descendants in the USA during the turn of the last century. The local chapter was established in May 1977. For more information visit the Nassau, Bahamas Chapter's website at www.apabahamas.org.

events