Holiday Home Lighting Contest Adds Tree Trimming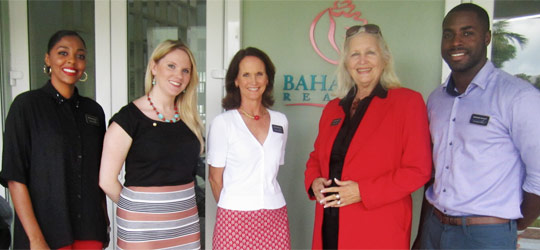 As the Bahamas gears up for the holiday season, Bahamas Realty Limited announces the launch of it's Third Annual Holiday Home Showcase lighting competition. A number of new elements give entrants more ways to win, organizers explain.
"The Ho Ho Holiday Spirit is spreading. I've already seen Christmas lights brightening the night.  Home owners are calling us to sign up early so we are confident that our Third Annual Bahamas Realty Holiday Home Showcase lighting competition will be even more popular than before!" says Robin Brownrigg, President of the 64-year old company on East Bay St., Nassau.
"We've even had inquiries from realtors in the U.S. and have given them access to our bright idea," says Bahamas Realty CEO Larry Roberts, who spread the word during a Leading Real Estate Companies of the World conference last year.
A new feature this year widens participation in the Showcase–Tree Trimming–the idea of Sales Agent Marissa Knowles.
All entrants are eligible for weekly random draws for a $25 gift certificate, with the most unusual or most beautifully decorated tree in the whole Facebook Tree Trimming event winning a $100 grand prize–chosen by Facebook voters. It's sponsored by Rocky Farms Nursery, where live or cut Christmas trees and poinsettias already await shoppers.
"The Bahamas Realty Holiday Home Showcase has been very popular, so this year we really wanted to expand the categories and offer more ways for everyone to get involved and win. The Bahamas Realty Tree Trimming competition brings the festive competition into the home for an exciting new twist," according to Mrs. Iona Henderson, Bahamas Realty Marketing Manager, who spearheads the Holiday Home Showcase events this year.
"Our grand prize for the outdoor lighting competition is again a $1,000 gift certificate from the stores of Builder's Mall, as well as a $500 charitable donation from Bahamas Realty to the winner's favourite charity. Other prizes include a Eureka vacuum cleaner and five gallons of Devoe Paint from Jolly Roger and Paint Suppliers, Shirley St; and third prize, dinner for two at Luciano's of Chicago, East Bay." says Sales Associate, Broker, and host of "Bahamas Realty Now", Sara Parker, whose idea launched the competition.
"It's sort of an outgrowth from our 'Bahamas Realty Now' television show with the sponsors donating all the prizes in the first two years. Now other companies are joining in, making the season even brighter."
She continues, "We also have weekly random draws for a bucket of chicken from KFC Nassau and certificates for a dozen donuts from Dunkin Donuts. The People's Choice Award, strictly from Facebook votes, has been very popular: $500 of BEC Bucks to help with the holiday electricity bill." Random draw winners for both competitions will be announced on The Bahamas Realty Facebook page each Friday afternoon.
Mr. Roberts recalls the event's origin in a sales meeting year before last:  "We were reminiscing about how exciting it used to be for children to go see the wonderful Christmas lights covering that little house on Shirley St. We decided to try to inspire more homeowners to make the season brighter."
"A sales meeting and a childhood memory fueled a spark that led to a flame of enthusiasm. It spread like wildfire through the office of Bahamas Realty to the streets of Nassau. In just three weeks, a team of committed agents took an idea of brightening the Bahamas at Christmas, implemented it and held an island wide Holiday Home Showcase competition," with the assistance of passionate judges and a police escort for the judging, wrote Andrea Brownrigg in her blog. She is a Bahamas Realty director and a founding member of the steering committee for the Showcase.
The deadline for entries this year is Dec.14, with five finalists judged live on Tuesday, Dec. 17. Electronic entry forms are available on line at Bahamas Realty's Facebook page and website, and at the Bahamas Realty office on East Bay St. For logistical reasons, Family Island entrants are only eligible for the People's Choice Award, and the Tree Trimming Awards which will be determined by the number of likes for the entry's photo on The Bahamas Realty Facebook page. Facebook voting starts Nov. 25. Winners will be announced Dec. 19th.
"We can't wait to see the creative Christmas lights go on all over New Providence and Paradise Island. We are all encouraging our neighbors and clients to enter whether their properties are huge or tiny. What counts is the brightness of the idea!" says Bahamas Realty Partner Gordon Wilde.
"Remember, all you need to do to enter is fill out the short simple entry form on Facebook or on paper and turn it in along with ONE photo of this year's display, or enter by email at: holiday (at) bahamasrealty.bs."
Look for details, tips and last years' winners in the December "Bahamas Realty Now" TV show airing each Monday at 7 p.m.on JCN Cable Channel 14; and each Wednesday at 8 p.m.  and Thursday at 11 a.m. on ZNS TV-13 on Cable Channel 11.
Mrs. Henderson adds,  "Remember, Holiday Home Showcase entries don't have to be elaborate.  We just want every household to participate — however they can–to share the joy of the Season."
By P. S. News/Features
Caption: Steering Committee members are:  (From left) Sales Associate Marissa Knowles (Tree Trimming), Marketing Manager Iona Henderson (Chairperson), Director and Broker Andrea Brownrigg, Broker Sara Parker (Executive Producer and Host of "Bahamas Realty Now" TV), Sales Associate Brian Austin (Peoples Choice, BEC Bucks). Photo by P. S. News Features

christmas, competition, holiday, real estate