Bahamas Rotary Stands Out In The Region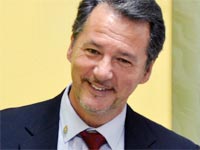 The Bahamas' clubs are the cornerstone of Rotary in the region, according to District 7020 Governor, Jeremy Hurst.
Mr. Hurst and his wife Michelle are in town for two weeks visiting with all eight branches of Rotary which includes six clubs in Nassau and one each in Eleuthera and Abaco.
"You can't help to be impressed with the tremendous job that Rotary does in The Bahamas," Mr. Hurst said. "They've long been renowned as one of the strongest group of clubs in District 7020."
A unique district, 7020 encompasses 84 clubs in 10 countries on 16 islands, with at least three spoken languages.
"A normal district in Rotary would be for example, Greater Washington or North London. We have a very challenging district in that we have a number of countries so it's more difficult for us to coordinate Rotary within it," Mr. Hurst explains. "The Caribbean tends to be a mixing pot for all culture across the world, so our Rotary District is strong because of our diversity."
It is the district governor's job to help support and strengthen its clubs. That includes a visit to each one.
With a number of clubs to spend time with, Mr. & Mrs. Hurst's days are filled with Rotary-related activities, including a launching of an EarlyAct Club (a Rotary-style club for primary school students) sponsored by the Rotary Club of South East Nassau (RCSEN).
The District Governor and his wife travel to Eleuthera this weekend; and will spend some time in Abaco next week before their departure on Friday, November 15.
"Rotarians in The Bahamas do a tremendous job in the community helping with community needs. These are very vibrant and active Rotarians. They should be proud of the work they are doing," said the British-born expat who now resides in the Cayman Islands.
Mr. Hurst owns and operates a group of companies offering property and investment related services to private investors, corporations and developers. He is a founder of the Cayman Islands Investment Council; a member of Cayman Island Government's E-Business Advisory Board and has been closely involved in a number of anti-drug and youth initiatives on the island.
He joined the Rotary Club of Grand Cayman in 1988 and seven years later in 1995/6 became its youngest-ever president at the age of 34.
The veteran Rotarian says The Bahamas has long been known as one of the cornerstones of Rotary in district 7020, along with other economically strong countries, such as the Cayman Islands.
"Part of our responsibility for the district is to look after our brothers and sisters, fellow Rotarians and Rotary Clubs in the less fortunate countries," said Hurst. District 7020 also includes economically challenged nations such as Jamaica and Haiti.
According to Mr. Hurst, The Bahamas provides a "tremendous amount of support" throughout the district. Although that's not to say that there isn't a healthy dose of competition between clubs and countries.
"We all have a competitive element to us. That's the way Rotary works. It's good to have that competitive element," he said. "Even within The Bahamas I see competition between the clubs, wanting to be the best club out there and that's a great thing. They measure up exceptionally well."
In his one-year term as district governor Mr. Hurst hopes to reach out to at-risk youths.
"No matter what culture you come from, whether it's a smaller country or a larger country we all have challenges with our youths, particularly our male youths," he said. "Rotary is well placed to be in a position where it can provide mentor programmes and assist in guiding our youths in the right direction. That's certainly one of the main focuses that I have as district governor."
By Precision Media

rotary