Bahamas Conch Population Threatened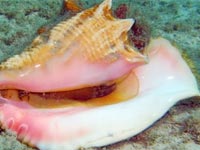 The harvesting of juvenile conch remains the single biggest threat to the sustainability of the Queen Conch population in the Bahamas, the The Bahamas National Trust's (BNT) head saying there were "certainly some warning signals that we need to start taking note of".
Eric Carey told Tribune Business that the BNT's 'Conchservation' campaign was created to highlight such issues and help ensure Bahamians continue to enjoy the fish in the future.
He said resource assessments had found depletion of conch populations in areas such as the Berry Islands.
"We have a programme that's basically designed to, over the next few years, make Bahamians aware of the status of conch, and to get Bahamians committed to doing things like cutting out the eating of immature conch or the harvesting of immature conch," Mr Carey said.
Mr Carey added: "Our campaign is not to make getting conch more restrictive, but it is to keep Bahamians eating conch. We don't want to see conch become listed as an endangered species because what that means, from our perspective, is that the numbers are so low that maybe it's no longer sustainable.
Click here to read the complete article at tribune242.com

conch, crime, environment, government