BIFF Continues Community Outreach Through Youth Workshop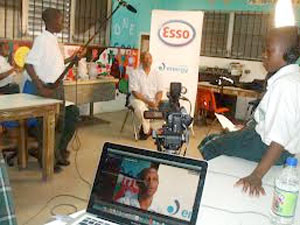 The Bahamas International Film Festival (BIFF), celebrating its 10th anniversary and taking place December 5th – 13th, continues to focus on educating and inspiring the next generation of filmmakers through its signature Youth Film Workshop.
This year, the program partnered with five local Bahamian private and public schools throughout Nassau and Eleuthera and integrated the workshops directly into classrooms.
The Festival will screen the winning films and clips from the program December 5th – 8th in Nassau and December 9th – 13th in Eleuthera. The announcement was made by BIFF Founder and Executive Director, Leslie Vanderpool.
The Youth Film Workshops served as an innovative children's mobile film studio creating a unique learning environment like none other. With the support of BTC, the Youth Film Workshops took place in classrooms throughout Nassau to heighten awareness of the positive impact of media literacy.
Participating schools in this year's program each led a selected group of students to develop story lines, scriptwriting and take on various roles of an actual film crew for their film format, based on the topic "The Bahamas Through My Eyes." A total number of 65 students, through the course of a week, participated in the sessions with a curriculum that included the history and art of filmmaking, genres, formats, scriptwriting, casting, shooting, and cinematography,. Schools that signed on to participate in this year's Youth Film Workshop are L.W. Young Junior High School, Garvin Tynes School, Spanish Wells All Age School, Harbour Island All Age School, and Central Eleuthera High School.
Commented Vanderpool, "BIFF's Youth Film Workshop is a favorite program of mine, as it provides hands-on experience in making a film, teaches the benefits of collaboration and teamwork and allows children to realize their innate abilities and exercise their imaginations. The rewards of teaching 600 students since this outreach program was started in schools around Nassau, and adding Eleuthera to this list, are immeasurable. Testimonies from students now in college pursuing theatre arts, media and filmmaking, as a result of this introductory exposure, speak to the importance and value of this program. This is the beauty of bringing Hollywood to The Bahamas and conducting invaluable programs that BIFF offers throughout the year.
The Youth Film Workshop was conducted by Vanderpool and Neville Smith, CEO of Settlers Cove Ltd. Digital Cinema & Television. With their guidance, participants learned the fundamentals of filmmaking, explored and experimented with the latest in digital technology, in an exciting, fast-paced, child-focused environment with the ultimate goal of developing media literacy, social networking and collaboration skills.
"It was encouraging to see young people excited about a profession that they watch every day but never had the opportunity to participate in," said Neville Smith. "In class, we challenged the students to make short films by whatever means they had, which reveal a level of creativity that was astounding!  I hope to see films coming from their respective schools in the near future."
The Youth Film Workshop was sponsored by The Bahamas Telecommunications Company (BTC), the primary telecommunications service provider for the Bahamas.
Celebrating its 10th year, the Bahamas International Film Festival has established itself as a marquee international Festival in the Caribbean region, discovering and promoting independent voices and talent from around the world and showcasing a diverse array of international films.
For additional information, including screening listings, events and ticket pricing, please visit www.bintlfilmfest.com.
The Bahamas International Film Festival

film, workshop, youth