Deep-Water Diver Dies After Trying for a Record at Dean's Blue Hole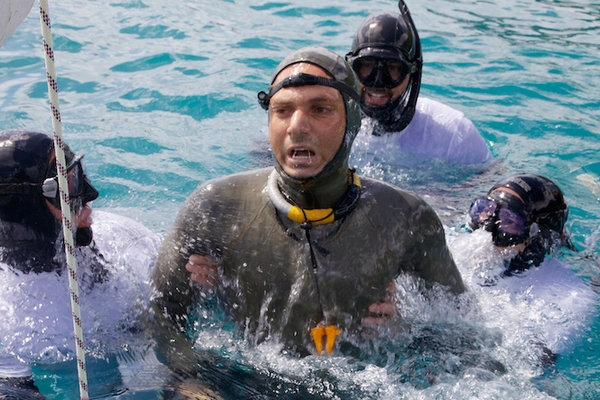 As Nicholas Mevoli lay prone, floating in the azure sea, attempting to relax, his exhales were audible. The countdown had begun, and he prepared to dive into Dean's Blue Hole, hoping to reach 72 meters on a single inhalation, with no fins or supplemental oxygen. He began sipping the air, attempting to pack as much oxygen in his lungs as possible.
At 12:25 p.m. Sunday, surrounded by 15 other athletes and observers, as well as five safety divers, he turned and submerged, face first and looking like a human arrow shooting into the darkness on what would be the last dive of his life.
Officials for Vertical Blue, a championship eventin the sport of free diving, monitored and announced Mevoli's progress by sonar, and all was progressing smoothly until he had trouble at 68 meters, or about 223 feet, and seemed to turn back. Yet instead of heading to the surface, he decided to dive down again in an attempt to reach his goal and achieve his second American record. A few of his fellow athletes squirmed with discomfort, recognizing that his decision was a dangerous one.
"Diving to that depth with no fins, that's a hard, physical dive," said Mike Board, the British record-holder. "I was thinking, O.K., he's going to have a hard time getting up."
Still, Mevoli shot to the surface under his own power, after a dive of 3 minutes 38 seconds. That's when the scene turned nightmarish.
Click here to read the complete article at www.nytimes.com

diving, United States