GBPAS Presents Jammin' with Jazz & Jive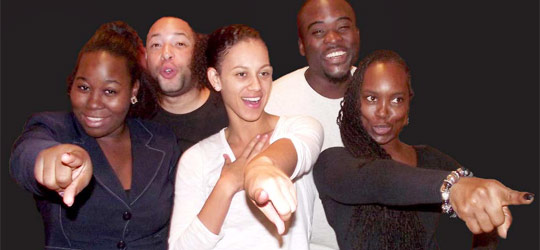 Freeport, Bahamas – The Grand Bahama Performing Arts Society (GBPAS) brings another night of pure entertainment on Friday, November 22nd, 2013 when, "Jammin' With Jazz & Jive" takes place at Canal House in the Pelican Bay Hotel.
If you enjoyed Ain't Misbehavin' at the Regency Theatre a few years ago, you will love, "Jammin' With Jazz & Jive"!  It has the same cast and style, in a cabaret setting, featuring the well-known and loved local performers Autumn Joy Dames, Dora Brown, Georgia Taylor, Javan Hunt and Kenton Pinder.
Autumn Joy Dames is an accomplished singer, dancer, actor with experience on the theatre stage and television.  Dora Brown has been singing most of her life and is no stranger to the stage.  Georgia Taylor teaches dance, sings, performs and directs.  Javan Hunt's voice is Jazz personified.  Once you hear him you will want to hear him again, and again.  Kenton Pinder is an accomplished actor, and entertainer who gives mesmerizing performances with talent like no other.
Don't miss these five stars as they perform their hearts out for you, in support of the Society's initiatives. Theatre style seating is available at $35 per person. A limited number of VIP tables for 4 may be purchased in advance. These tables are premium seats and come with a platter of luxury hors d'oeuvres.  The price per table is $225.
The doors and bar open at 7:30 p.m. and the performance begins promptly at 8 p.m.  Tables and tickets may be purchased by calling 242-727-9198, 727-0811 or 373-8068.  Regular tickets may also be purchased at Seventeen Shop.  The VIP tables must be purchased in advance and are going quickly, so book your table now!
This evening has been made possible through the generous support of all GBPAS members and sponsors, with special thanks to: Pelican Bay Hotel, TheBahamasWeekly.com, Keen i Media Ltd. and Mackey Media.  All proceeds go directly to funding scholarships and other support for Grand Bahama's students of the performing arts.
The Grand Bahama Performing Arts Society was created to bring professional artists and performers from around the world to audiences in Grand Bahama. Drawing from Bahamian and international talent, proceeds from events scheduled throughout the year are used for advancement of Grand Bahama students of the performing arts. Find us on Facebook: www.facebook.com/gbperform
Caption: The 5 stars of "Jammin' with Jazz & Jive" to be held on Friday, November 22nd at the Canal House, Pelican Bay Hotel. (Left to right) Dora Brown, Kenton Pinder, Autumn Joy Dames, Javan Hunt and Georgia Taylor

arts