Grand Isle Resort & Spa Sponsors Bahamas Speed Week 2013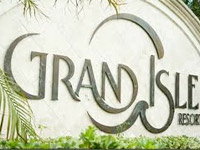 Grand Isle, a luxurious development perched above Emerald Bay, will host a group of automotive enthusiasts on Monday, December 9th after the event in Nassau. The goal, according to management, is to introduce these esteemed guests to arguably the most beautiful place in the Bahamas  Great Exuma.
Grant Castle, executive director of Grand Isle Resort & Spa, said that the partnership is a natural pairing, while allowing these influential guests to gain an appreciation for another part of the country.
"We are thrilled to be joining forces with Bahamas Speed Week and becoming the official pit stop as they cross the finish line," Castle explained. "Once a glamorous event in the 1950s, Speed Week has been growing since its revival three years ago. We look forward to doing our part as Speed Week kicks into high gear."
Grand Isle features well appointed ocean front villas combining an intimate resort experience with upscale vacation home living.
Each villa comes with high end furnishings, spacious living areas and spectacular views.
Amenities include an infinity edge pool, four  star restaurant, state of the art fitness center, and SeaStar Spa with an adjacent Greg Norman Signature Golf Course.
The resort was recently ranked 1st in the Bahamas and 3rd in the Caribbean by TripAdvisor.
In addition to its presence in the exclusive Paddock Club, Grand Isle will entertain a number of Speed Week entrants on December 9th. Guests will board a private plane and fly low over the Exumas before landing on Farmer's Cay and having lunch at Ty's Bar and Grill.
Participants re board the plane after lunch and continue on to Grand Isle, where they will enjoy everything the Exumas have to offer.
A number of Bahamian VIPs have also been invited to attend the post Bahamas Speed Week festivities.
David McLaughlin, a key organizer of Bahamas Speed Week, said that guests from Europe,  Canada and the United States are looking forward to a broader Bahamian experience.
After enjoying the speed of the capital, these high net worth individuals want to "slow  down" and see what else the country has to offer. Bahamas Speed Week is expecting more  than 40 entrants this year, all with vintage vehicles worth a minimum of $200,000.
"We are excited about the future, and certainly, unwinding at Grand Isle will only enhance  the event," McLaughlin added. "Now in its third year of revival, Bahamas Speed Week has  reached a critical point where it will become a signature event on the Bahamian tourism  and social calendar."

autos, cras, events, islands