Hollywood Star Danny Glover To Receive BIFF Award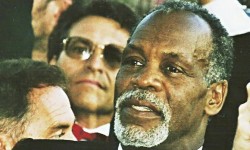 Hollywood star Danny Glover is to receive this year's Bahamas International Film Festival Career Achievement Award.
The star of the blockbuster "Lethal Weapon" series will be present for the tribute and presentation at the Atlantis theatre on Friday, December 6.
Actor, producer and humanitarian Danny Glover, 67, has been a commanding presence on screen, stage and television for more than 25 years.
As an actor, his film credits range from Hollywood hits like "Dreamgirls" and "2012" to smaller independent features, some of which Glover also produced.
In addition to his film work, Glover is highly sought after as a public speaker, delivering inspiring addresses and moving performances in college campuses, union rallies and business conventions.
BIFF 2013 starts on Thursday, December 5 and will run through Sunday, December 13. For the second consecutive year, BIFF will be coming to Harbour Island (December 9-11) and Governor's Harbour (December 11-13), showcasing a diverse presentation of films from around the world accompanied by a group of local and international filmmakers.
Click here to read the complete article at tribune242.com

arts, awards, celebrities, films