More Cuban Abuse Denials From Fred Mitchell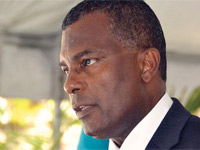 Immigration Minister Fred Mitchell denies his department has neglected two Cuban detainees, who are allegedly being abused at the Her Majesty's Prison.
Speaking with The Tribune, Mr Mitchell confirmed that two Cuban immigrants are currently being held in "no man's land" in the prison, he denied that they are being abused or mistreated in any way.
Mr Mitchell's comments came after family members of Carlos Pupos Mendoza and Lazaro Seara Marin accused the government of detaining the two men under inhumane conditions without charge.
After four months of protest over investigations into alleged human rights abuses at the Carmichael Road Detention Centre from a Miami based Cuban exile group, the government announced plans to launch a probe.
Five Defence Force marines were officially charged at the Defence Force Base in Coral Harbour last month following an investigation into claims of abuse at the Detention Centre.
Nothing has happened since.
Click here to read the complete article at tribune242.com

corruption, Cubans