Silver Airways Gets Condé Nast Award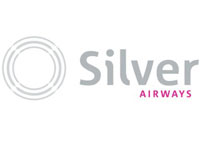 Silver Airways announced that it has been named one of the Top 10 "Best U.S. Airlines" in the prestigious Condé Nast Traveler's 26th annual Readers' Choice Awards.
This is the second distinction the Ft. Lauderdale-based airline has received this year. In February, Silver Airways was named the "2013 Regional Airline of the Year" by Air Transport World (ATW) in recognition of the carrier's outstanding growth and achievements since its launch in May 2011.  To commemorate the twin 2013 industry and passenger awards, Silver Airways is saying "Thank You" with a "Double WOW!" fare sale, beginning November 12, 2013.
"On behalf of the Board of Directors and Silver Airways' leadership, I would like to express our sincere gratitude to each and every one of our 900 team members for their unwavering commitment to the highest level of customer service," said Matthew Ray, Chairman of the Board of Silver Airways.  "When we launched Silver Airways just two short years ago, a primary objective was to create a world class service delivery strategy that could consistently win customer satisfaction and build brand loyalty.  To be recognized by Condé Nast readers is a great affirmation that our strategy is working, and an even greater motivation to keep improving. This is a tremendous testament to the hard work and dedication of the entire Silver Airways team, and I look forward to the company's continued success."
"It was an honor to be recognized earlier this year by our peers in the industry as the '2013 Regional Airline of the Year,' so we are doubly pleased that our customers share that view by honoring us with the recognition that we are one of the best airlines in the U.S.," said President and CEO Dave Pflieger.  "It is great validation that we are on the right track to reaching our goal of becoming the best regional airline in the world," the airline's chief executive noted.
In recognition of the twin honors and to thank its loyal customers, Silver Airways is launching a "Double WOW!" fare sale starting as low as $68* that will be available now through 11:59pm EDT on November 14, 2013 at www.silverairways.com <http://www.silverairways.com>/readerschoice.  Reservations also can be made by calling Silver Airways toll-free at 1-800-881-4999.
In just under two years of flying, Silver Airways has enjoyed dramatic growth. The carrier now operates the largest fleet of 34-seat Saab 340Bplus aircraft in the world, and has doubled its route network with the opening of new hubs in Washington, D.C. and Atlanta that serve communities in the Mid-Atlantic and Southeastern United States. At the same time, Silver Airways has expanded its Florida routes to become the largest intra-state carrier, and also operates more daily flights to the Bahamas than any other airline.
In addition to expanding its network and improving its flight schedule, Silver Airways has enhanced its codeshare agreement with United Airlines and implemented numerous other strategic and operational initiatives designed to deliver exceptional passenger satisfaction and performance.
"It is gratifying to see that our customers value all that Silver Airways has to offer:  the reliability and comfort of our large fleet of 34-seat Saab 340plus aircraft; the convenience of the most nonstop intra-Florida routes and Bahamas destinations; the ease, reach and rewards of United Airlines, our terrific codeshare partner; the satisfaction of getting better assistance and fantastic deals through our new website, state-of-the-art reservation system and call center; and last but certainly not least, the professionalism, dedication, and customer service focus of our exceptionally talented, Silver Airways team," Pflieger said.
The results of this year's Readers' Choice Awards can be found in the November issue of Condé Nast Traveler magazine and online at www.CondeNastTraveler.com/rca.  Almost 80,000 readers cast 1.3 million votes making this year's poll the largest turnout in the history of the magazine's Reader's Choice survey.  Final scores (out of 100) represent the percentage of readers who rated a city, island, cruise line, airline, hotel, and resort "excellent" or "very good." Silver Airways entered the Top Ten Best U.S. Airline list for the first time in its two-year flying history in the number eight (8) spot.
In February, 2103 Silver Airways won top honors as "Regional Airline of the Year" by Air Transport World (ATW), and in doing so was the first U.S.-based airline to win the coveted ATW Regional Airline of the Year award since 2008.  The carrier was honored in recognition of its outstanding growth and achievements, as well as its contributions toward elevating the overall aviation industry.
About Silver Airways
Silver Airways Corp. (IATA: 3M) is a U.S. owned and operated airline operating almost 200 daily scheduled flights to/from 46 gateways in Florida, the Bahamas, Georgia, Alabama, Mississippi, Virginia, West Virginia, Pennsylvania, New York, Ohio, and Montana.
Silver Airways was named the recipient of Air Transport World's (ATW) 2013 Regional Airline of the Year Award, and, in doing so, was the first U.S. airline to win regional aviation's top honor since 2008. This award recognized Silver's outstanding achievements as well as the company's contributions toward elevating the entire regional aviation industry overall.
The Silver Airways fleet is comprised of over 32 aircraft.  It operates both Saab 340B plus aircraft (with a capacity of 34 passengers in a spacious, noise reduction equipped cabin), each powered by highly reliable, fuel-efficient GE jet-turbine propeller engines, and Beechcraft 1900D aircraft (maximum seating capacity: 19 passengers). The Beech 1900s currently operate in the airline's Cleveland and Montana networks.
The company is privately owned by Victory Park Capital, a Chicago-based investment firm that launched the airline in May 2011.

airline, award