Spirits Bright At Jollification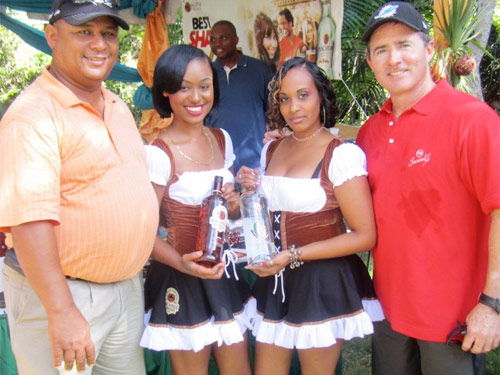 Jolly Santa's Helpers–Spirits were jolly and bright in the Mistletoe Lounge during the Bahamas National Trusts' Christmas Jollification 2013,  Nov. 23 and 24 at The Retreat Garden,  BNT Headquarters on  Village Rd.
In the popular "Mistletoe Lounge," at the back of the expansive garden, patrons sampled Bacardi Rum Cake while they collected recipes and  sampled a wide variety of Bristol Wines and Spirits and products. Seasoned Bristol Wines and Spirits staff, volunteers and visiting expert mixologists poured and answered questions.
At the front of the garden, an even larger number of booths than ever included  hand crafted Christmas ornaments and gifts…from furniture and plants to local jams, elegant jewellery and straw work, plus BNT memberships and the ever popular book stall.
Showing off Bacardi products are: (from left) Dwayne Whylly of D'Albenas Agency, Deshona Deveaux and Camesha Rolle of Bristol Wines and Spirits and Eddie Gardiner, Vice President of Logistics for Bristol Wines and Spirits.
Photo by Keith Parker, P.S. News Features.

christmas, events, festivals