The Caribbean's Strongest Rum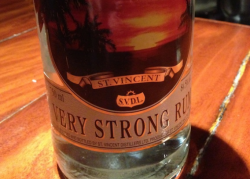 The barman reaches down for the bottle, appearing to look over his shoulder.
This rum is only available for those who ask, he says. Why?
"They call it plane fuel."
And when you taste it, you'll soon think that the Grenadine Air Alliance runs exclusively on the stuff.
The brand, made by St Vincent Distillers, Ltd is called Sunset, and the name is simple: "Very Strong Rum."
It's the most popular rum in St Vincent and the Grenadines, though it's usually not consumed straight. By almost any account, this is the strongest rum in the Caribbean and, at 84.5 percent alcohol by volume (that's 169 proof), it's hard to argue.
As for the taste? Well, for the uninitiated, it may indeed taste like jet fuel.
Click here to read the complete article at Caribbean Journal – incuding the recipe for the Caribbean's strongest Rum Punch.
Rum Aficionados & Rum Lovers Take Note:
Don't Miss RumBahamas – A Festival of Rum, Food & Culture in Nassau, Bahamas, February 22 & 23, 2014.

caribbean, rum