Toddler Killed In Fire, Arson Suspected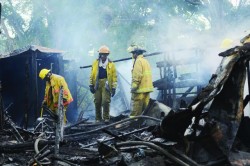 Little Jeffrey King Jr., a 3-year-old toddler, was burned to death Monday afternoon after his wooden 10-room home off Kemp Road went up in flames.
Police found his charred remains clinging to the family's dog, which also died in the fire.
Police have yet to determine the cause of the fire, but family members believe that the blaze was set intentionally.
Police Superintendent Stephen Dean, who addressed the reporters, said officials did not know how the fire started.
"Firefighters responded and upon arrival here they met a wooden structure engulfed in flames. Information developed that a child might be inside so they continued in a rescue mode. Once the fire was extinguished officers were able to canvas the area, did a thorough search of the area and they found what appeared to be the body of a small child, who was burnt beyond recognition," he said.
"In addition to our fire troops on the ground, we have detectives from the Central Detective Unit (CDU) assisting with this investigation. It is a very active investigation. We have no conclusion. We are trying to determine why, if a child was left here alone. What is the cause? So we are actively investigating."
Superintendent Dean also appealed to anyone with information to contact police rather than reporting their information on social media websites.
One neighbour, a father of six who didn't want to be identified, said he was one of the first people to realize the house was burning.
"I saw the fire come from the back and so I ran up on the roof and get the hose. I screamed, 'Fire start; someone help me.' I called for everyone to help and only a certain amount of people is around here. But everyone tried to help," he said.
"The mother came running out, but she didn't really say the baby was in the house. When I heard the baby was in the house, I jumped down to go inside, but I said the fire was way too hot. So I splashed water on the house."
"I tried, there was nothing I could do," the man said.  "Nobody have running water like that, so we had to use buckets of water."

child abuse, children, murder, society