Christmas Party for the Children of All Saints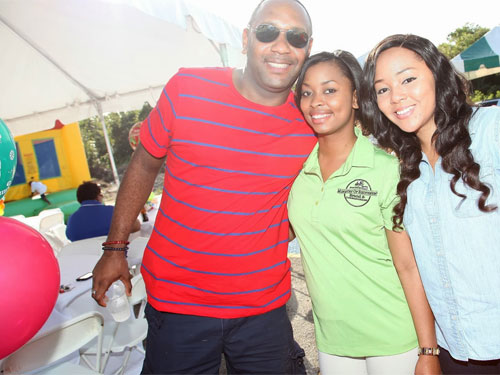 BTC recently held a Christmas Party for the 25 under privileged children who live at the All Saints Camp.  The party was held in the camp's newly renovated Park and play area which was funded by BTC earlier this year with labour and good will provided by the BTC iVolunteers.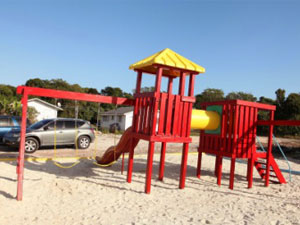 The children enjoyed a traditional Christmas dinner, wrapped Christmas presents, music and dancing, basketball on a new court, Bouncy Castle playtime and face painting.  Karaoke King Demetrius Smith was the day's energetic host. Children enjoyed prize-winning sporting events and musical games when each child also received a Nike T-shirt compliments of Olympic track star, Golden Knight Demetrius Pinder who is sponsored by Nike and is a BTC endorsement star.
Jerome Sawyer BTC's senior public relations manager and a member of the company's iVolunteer Programme said this was not their first visit to All Saints.
"We were here last year and vowed we would do something about the rather 'sorry' play area. BTC has a company-wide philanthropic iVolunteer programme nation-wide and all of us, executives included, give our free time and help with various causes that touch us.
BTC encourages and facilitates through community project funding, our volunteerism acts and I think in many cases we are better people for it.  BTC has put us in a position to help people and causes, and it's opened our eyes to the community building effect 0f kindness and sensitivity to other people's lives, and very often, very basic needs."
Through the BTC iVolunteer Programme, the oft times forgotten children of the All Saints Camp have a new park and play area and new equipment which includes a Basketball court, and a multi play station.  The iVolunteers provided the time and labour to prepare the grounds and install the equipment.
"These children have few extras in life, so we hope this Christmas Party brought them some joy, as it did us when we saw them using the new play area and equipment," said Jerome Sawyer who spent the afternoon serving food and entertaining the children along with the other BTC iVolunteers: Indira Collie, Nikia Wells, Julie Armbrister, Farreno Ferguson, Sherry Rolle, Myra Mitchel, Cara Douglas, Colette Godfrey, Cherlyn Moss, Daniel Spence, Tsega Thompson, Latoya Cooper, Carol Barnett, LaShawn Cartwright, and BTC executives David Kelham and Patricia Walters.
Serena Williams
Photos: Ferreno Ferguson

BTC, charity, children, christmas, youth