Four Dead, Four Injured In Fox Hill Massacre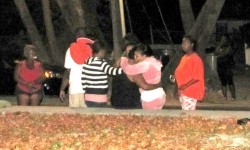 Four people have died and four others have been injured in a drive-by shooting in Freedom Park, Fox Hill.
This follows the December 16th mass shooting at a peace rally in Bain Town, where one man was killed and six people were wounded.
In this most recent massacre, gunmen opened fire from a car around 6:00pm, shooting into a crowd of people waiting to hear Junkanoo results.
Speaking at the scene, Police Commissioner Ellison Greenslade said a line in the sand has to be drawn.  That would be, probably, the tenth line the police have drawn this year.  So, it means nothing.

crime, gangs, murder, society