Heavy Metal Musician's Home Raided By Armed Robbers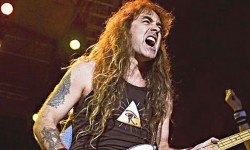 A Cable Beach property raided by armed robbers belongs to Steve Harris, bassist and lead songwriter for iconic British heavy metal band Iron Maiden.
Confirming this, property manager Charles Beall said Mr Harris, who lives between Los Angeles and the Bahamas, would not want to comment on the incident.
He added that the police have two suspects in custody, but have yet to bring charges as they are still searching for another man.
During the invasion, an elderly site caretaker was brutalised and more than $8,000 worth of goods and electronics were stolen.
Sometime between midnight and 2am on November 29, a group of men sawed through chains on the front gate of an old estate home on the property which was being used as a site office and storage facility for the furnishing of a 5,000 sq ft guest house.
There were flat screen TVs, refrigerators, appliances inside, Mr Beall said.
"They assaulted our caretaker, Philip Pierre, assaulted him, put a knife on his throat, and left him in a pool of blood wrapped in duct tape. They stole more than $8,000 worth of stuff, whatever they could carry."
Steve Harris, now owner of the property, was born and grew up in Leytonstone, east London.
As a boy, he aspired to be a professional football player, at one point he trained with West Ham United, but then became interested in rock music instead.
He began by playing the drums, but as there was no room in his house for a drum set, he switched to bass instead. He joined two bands before creating Iron Maiden on Christmas Day, 1975.
The group went on to become one of the most successful heavy metal bands in history, releasing 37 albums, many of them going gold and platinum in the US and UK.
By:  Paco Nunez
Soutce: read the complete story at tribune242.com

celebrities, crime, robbery