New Bahamas Cigarette Lights Up Competitive Market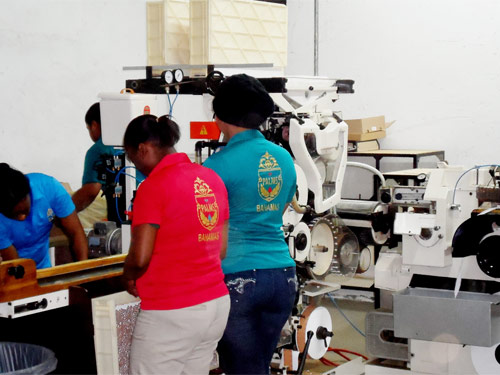 Less than three months after its launch, Caribbean Tobacco Enterprise (CTE) is reporting "excellent market interest" in a Bahamas-manufactured cigarette and said sales of the cigarette brand called Palms are exceeding initial expectations.
"When we first decided to serve a local market with export potential, we began sourcing top grade tobacco in order to produce a cigarette without harmful additives," said CTE investor Adam Dann. "We also wanted the packaging and image to be upbeat, reflecting the sunshine of The Bahamas.
But, Dann said, they knew they were up against one of the toughest markets of all – a product with intense brand loyalty.
"We also knew that to break into a highly competitive market that enjoys tremendous brand loyalty we had to build a solid product first, but we also had to have a good name and appealing packaging" said Dann. "We played with a lot of names and when we hit on Palms, we knew instantly that was it."
By the time they opened the 5,200 square foot plant in Freeport, Grand Bahamas, investors had spent one year researching.
"The new plant located in Freeport, Grand Bahama manufactures, packages and distributes its North Carolina quality tobacco that equals the quality of two of the most popular cigarettes on the market today," said Dann. "We have completed more than a year of detailed studies from tobacco quality to taste preferences and have developed a world class product that is made by Bahamians, Palms."
CTE puts its investment to date at $1.5 million. Some 16 persons work in the plant.
The company is targeting $3 million in sales in the first year and hopes to double that by year two with 20% of all sales in the local market and 80% in exports, mostly within the region though market expansion plans are being discussed.
"We are optimistic about our future and pleased with the demand thus far," said Dann. "You can't ask for more than that when you are a start-up company, but I think the amount of work that went into it before the first cigarette was packaged made the critical difference."
"We are especially thankful to the authorities for establishing the regulatory framework and concessions that created favorable conditions for local and international distribution," he concluded.
Diane Phillips and Associates
Caption: Palms Cigarettes, The Newest Assembly Line in Grand Bahama – Palms work to meet high demand for Caribbean Tobacco's new cigarette brand, "Palms" which is manufactured and distributed by Bahamians in Freeport, Grand Bahama.

business, industry, manufacturing