Palm Cay's Anchorage Condos on Target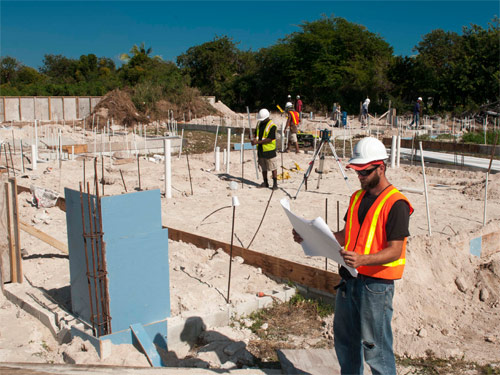 Six weeks after buyers turned reservations into purchases for Palm Cay's first condominium offering, work is well underway with infrastructure and site preparation slightly ahead of schedule, developers said today.
"The Christmas season is upon us and while a lot of projects are beginning to slow down, the work here at Palm Cay is going full steam ahead, putting us just slightly ahead of our target for the prep site work for The Anchorage," said Director of Sales & Marketing for the $200 million development Zack Bonczek. "It's very exciting to see it taking shape."
The 50 units of The Anchorage project will be built in four phases with the first 12 expected to be completed by January 2015. The 2-bedroom residences start at $319,000, a price point, says Bonczek, attractive for young couples, second homeowners, or Bahamians who want to downsize during retirement, shrinking families or other new life phase.
With 1,200 square feet, residences feature spacious master suite, generous balconies and terraces, travertine tile floors, granite kitchen counters, 9 foot ceilings, and represent the latest in the community's expanding list of offerings. Each unit has views of Palm Cay's gardens and residents will have access to amenities including the 194-slip marina, beach, family playground and tennis courts. A casual, fine dining restaurant called Billfish Grill is opening soon and will be followed by Chives Dockside near the marina.
"As Palm Cay evolved from development to community with a host of new activities, including happy hours on Friday evenings, sports events, charity art show, we began seeing more people who were interested in condominium living," Bonczek explained when plans for The Anchorage were announced in August. "They love the active outdoor lifestyle, marina, now with the new tennis courts, swimming pools, the $1.6 million refurbished beach and they want to enjoy all those amenities in a hassle-free lifestyle with someone else worrying about mowing the lawn."
The Anchorage was sold through a unique reservations process with prospective buyers making a fully refundable $5,000 commitment to show interest in ownership. Less than two months later, leaving time to secure financing for those who chose to do so, Palm Cay hosted an event packed with suspense and goodwill as buyers found out which unit they would soon call home.
While The Anchorage is the latest in Palm Cay's offerings, the nearly 70-acre community on New Providence's southeastern coast is proving to be one of the country's best-selling real estate investments. Developers reported that more than 70% of the single family residential lots have been sold.
Diane Phillips and Associates
Caption: ANCHORAGE CONDOMINIUM UNDERWAY AT PALM CAY *– Alec Packington, construction project manager, reviews plans at Palm Cay's luxury condominiums, /The Anchorage,/ a 50-unit, 4-phase project situated on New Providence's southeastern shore. (Photo by Derek Smith Jr for DP&A)

construction, development, housing, real estate