U.S. Embassy Issues Christmas Crime Warning For Bahamas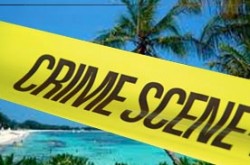 The United States Embassy in Nassau has warned against increased criminal activity in the Bahamas for US citizens preparing to the travel to the islands this Christmas season.
In an alert sent out to US citizens via e-mail yesterday, the Embassy warned that armed robbery is a "major threat" facing visitors to the Bahamas, noting that an alarming number of US citizens have fallen victim to armed robberies in the past year.
The alert even mentioned the armed home invasion of Deputy Prime Minister Philip "Brave" Davis' home and three other recent incidents involving American tourists.
In one incident, a vacationing couple was robbed by a man with a knife, who entered their hotel via an unlocked 5th floor balcony door in Freeport.
Also in the alert, the Embassy reported that a couple was robbed and attacked at mid-day while touring New Providence via scooter and that vacationers were robbed and assaulted during an armed home invasion in Nassau.
Citing crime statistics compiled by the Royal Bahamas Police Force, the Embassy email reported that there were 457 reported armed robberies and 928 house break-ins between January 1 and May 27, 2013.
"The Embassy strongly recommends that US citizens travelling to or residing in the Bahamas enroll in the Department of State's Smart Traveller Enrollment Program (STEP).  STEP enrollment provides the latest security updates, and makes it easier for the Embassy to contact you in an emergency."

crime, tourism, United States