Widow Sues Fontainebleu Owner Over Bahamas Chopper Crash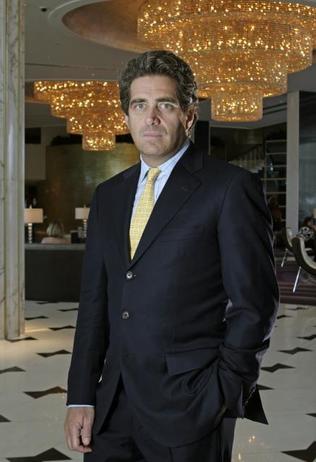 A new lawsuit accuses Fontainebleau owner Jeffrey Soffer of improperly taking the controls of a helicopter before it crashed in the Bahamas, then scheming to cover up his role as pilot to prevent litigation from the widow of a close friend killed on impact.
Soffer claimed he was a passenger in the chopper that crashed into the grounds of an exclusive Bahamas resort on Thanksgiving Day last year. Lance Valdez, a tax attorney living in the Bahamas, died on impact. Soffer, pilot David Pearce, and Soffer executive Dainel Riordan and his wife, Paula, were injured. The lawsuit claims Soffer's pilot license didn't allow him to fly the chopper, and that he hustled away from the smoldering wreck in order to "flee" before any crash investigation could be conducted.
Soffer arranged for a trip to Miami in a friend's corporate jet, and was admitted to Ryder's trauma center for treatment.
The federal suit, filed in Miami by Valdez's widow, Daria "Dasha" Pastouhkova Gogoleva, quickly gained national media attention, thanks to Soffer's status as the new husband to supermodel Elle Macpherson.
Click here to read the complete article at www.miamiherald.com

aviation, courts, crime, florida